Watercolor Wedding Invitation Templates
Watercolor Wedding Invitation Templates. This gorgeous watercolor wedding invitations are customizable.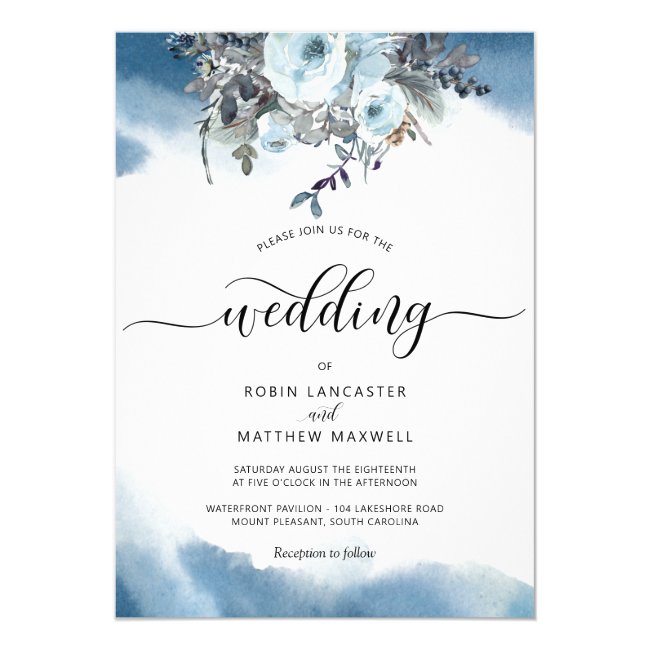 Blue Watercolor with Elegant Blue Floral Wedding Invitation
Gorgeous blue watercolor and floral wedding invitation set apart by its simple modern and elegant flair. Inspired by blue skies and fresh lake and ocean water, with graceful blue watercolor stains encasing your wedding details. Exquisite hand painted watercolor floral bouquet on top with flowers and foliage in dusty blue, navy blue, white, gray, sage and caramel tones. Use of hand written calligraphy details. Back of card in delicate blue watercolor wash.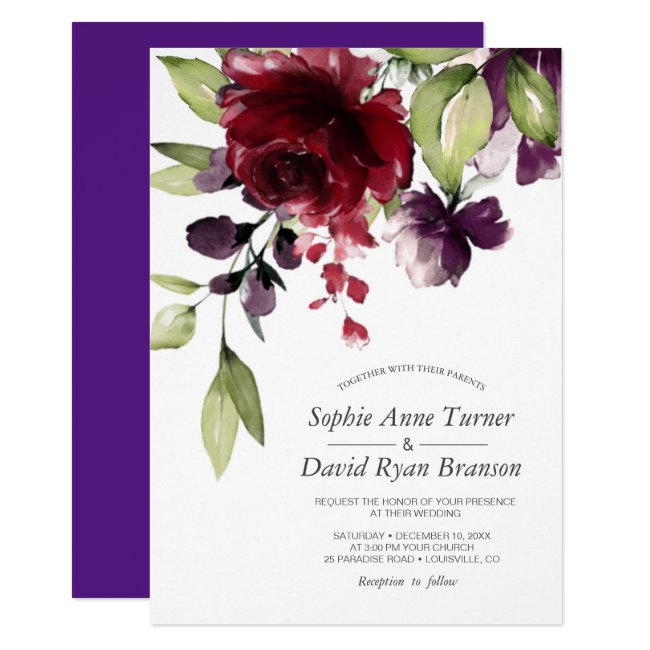 Burgundy Watercolor Flowers Royal Purple Wedding Invitation
Modern and elegant design featuring watercolour burgundy purple flowers; on the back floral frame in a heart shape, initials, all on white background; on the back floral wreath in a heart shape on royal purple background.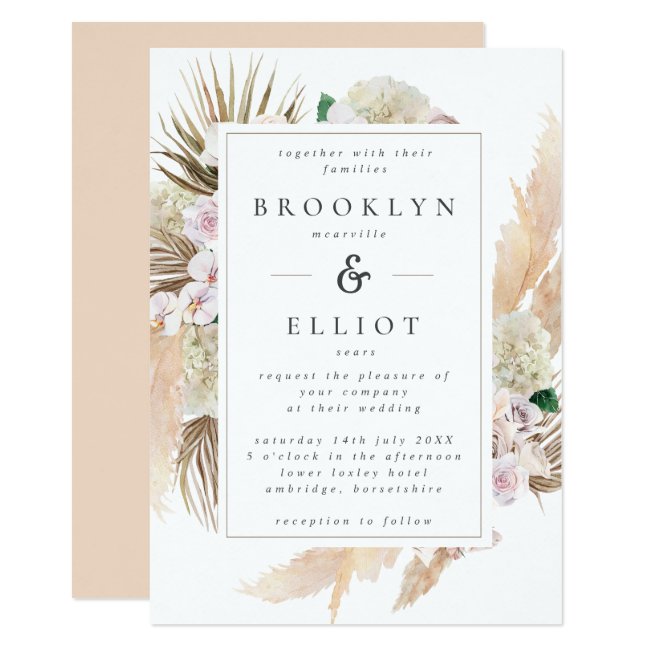 Watercolor Pampas Grass & Flowers Boho Wedding Invitation
A beautifully romantic and versatile wedding invitation, for a modern wedding with retro and boho vibes. This neutrally colored design features the trendy pampas grass in soft watercolor, teamed with soft pink and cream watercolor orchids, roses & hydrangeas, and tropical leaves, behind a rectangle frame. Your names take center stage in serif dark grey. The reverse is in solid cream.
Blue Watercolor with Elegant Blue Floral Wedding Invitation
Elegant wedding invitation with exquisite floral and delicate blue watercolor frame showcasing your wedding details. Flowers and foliage in a combination of dusty blue, navy, white, sage, gray and caramel tones. Back of card with dusty blue watercolor wash background and delicate floral bouquet in the center encasing bride and groom's names.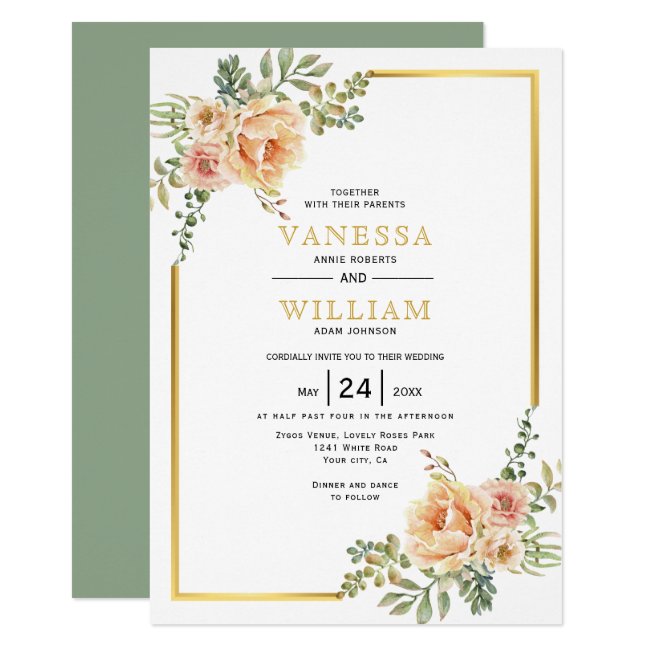 Watercolor flowers and gold frame floral wedding invitation
Watercolor flowers and gold frame floral wedding Invitation. This elegant design showcases a gold frame and peach watercolor cactus flowers and succulent leaves on the upper left and bottom right corners and your text in gold and black.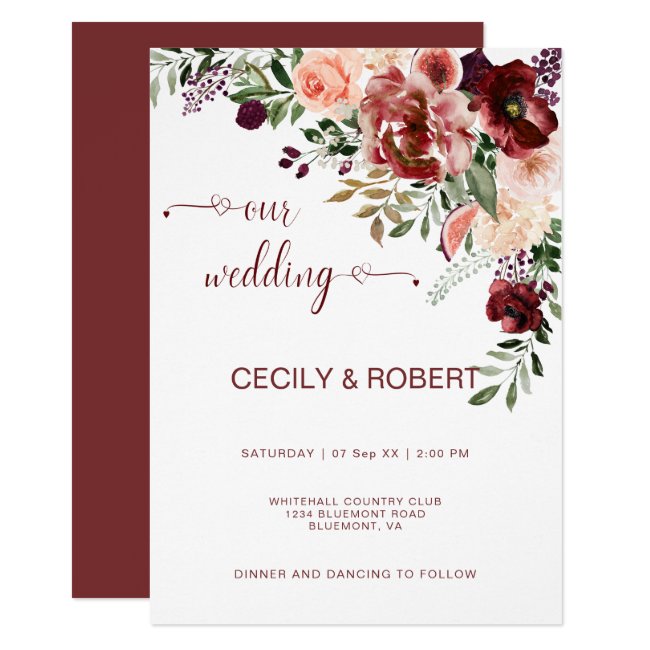 Rustic Autumn Boho Watercolor Flowers Heart Script Invitation
Rustic Autumn boho style with watercolor flowers in shades of pink, marsala, and burgundy with delicate greenery. "our wedding" is spelled out in a pretty calligraphy font with hearts on both ends. The text boxes are easy to personalize with your own information.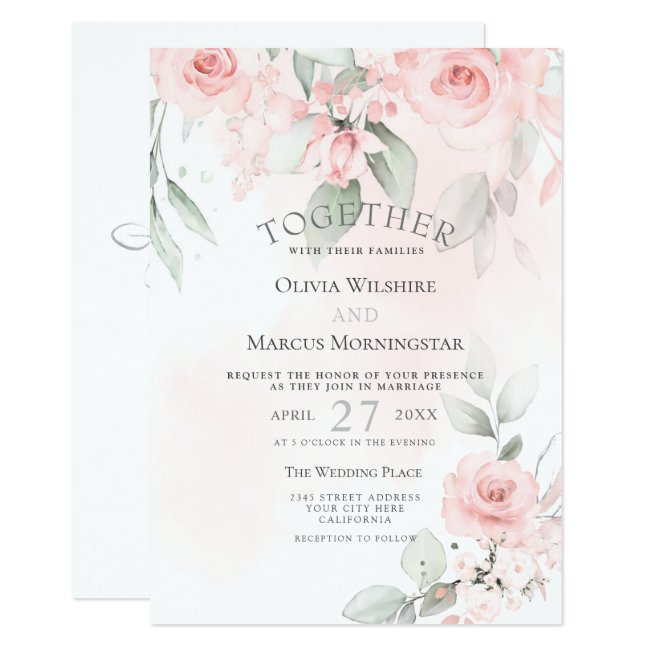 Wedding | Blush Pink Watercolor Floral Roses Invitation
Wedding Invitation | Pretty watercolor sweetheart roses in blush pink with pale green foliage. Event is easy to customize. Design created for theBarefootBride™ by © WhimsicalArtwork™. This is part of a wedding stationery suite collection with matching wedding accessories also baby shower and other occasion stationery
Elegant watercolor pink white gold floral wedding invitation
An elegant pink and white watercolor design with chic hand drawn gold foil botanical flowers theme wedding invitations.
Watercolor Floral Bouquet With Elegant Gold Invitation
These elegant and lovely wedding invitations feature a white background with a soft watercolor image of a flower bouquet. The word "Wedding" is printed in an elegant, shiny looking gold font. The gradient design of the font makes it appear to shine. The remainder of the information can be personalized to include your own event info and names of the bride and groom. It's perfect for an elegant, chic, or rustic wedding.