Thanksgiving Invitation Templates
Personalized thanksgiving invitations, you can invite your guest with these custom invitations for thanksgiving dinner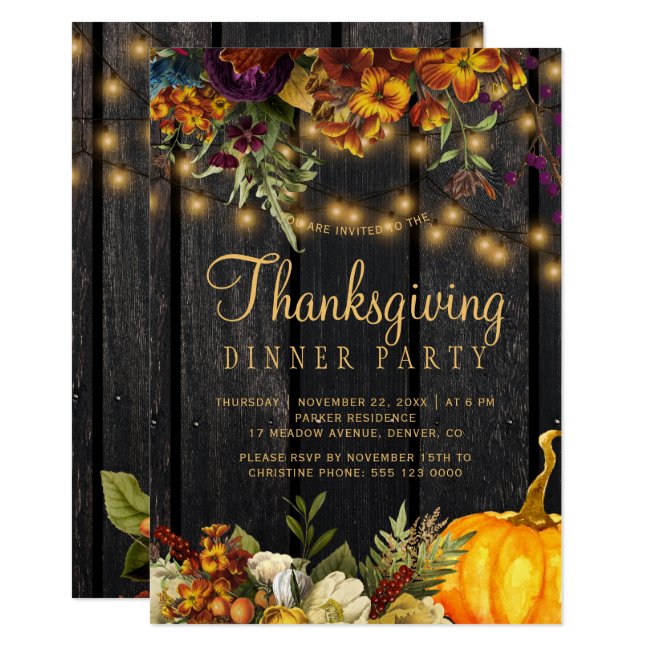 Rustic floral brown barn wood Thanksgiving dinner Invitation
Beautiful rusty orange and dark burgundy autumn fall flowers and pumpkin borders with strings of golden twinkle lights over a dark brown barn wood background making a charming Thanksgiving dinner invitation with a trendy handwriting gold typography script. Easy to personalize with your details! Suitable for traditional rustic | country | farmhouse | outdoor backyard family parties or barbecues.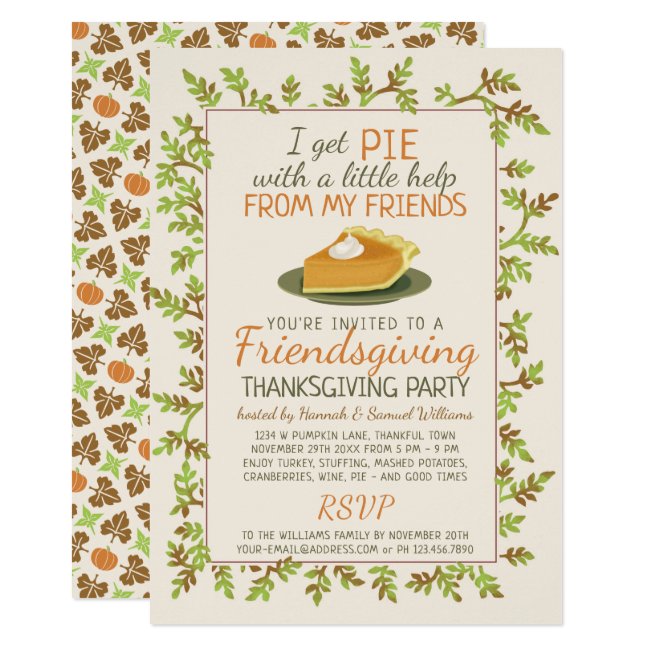 Thanksgiving Friendsgiving Party Pumpkin Pie Funny Invitation
Invite your friends for a Thanksgiving holiday feast with these pretty Friendsgiving party invitations. These unique invites say, "I get PIE with a little help from my friends" and include a hand-drawn slice of pumpkin pie. The border has a leaf pattern and the back has a pattern of leaves and pumpkins. Use the easy text templates to add the party host names, party details and RSVP information. TIP: You can also "customize / personalize further" to alter the rest of the text or rearrange and resize elements. Throw a fun Friendsgiving Thanksgiving party with these beautiful invites.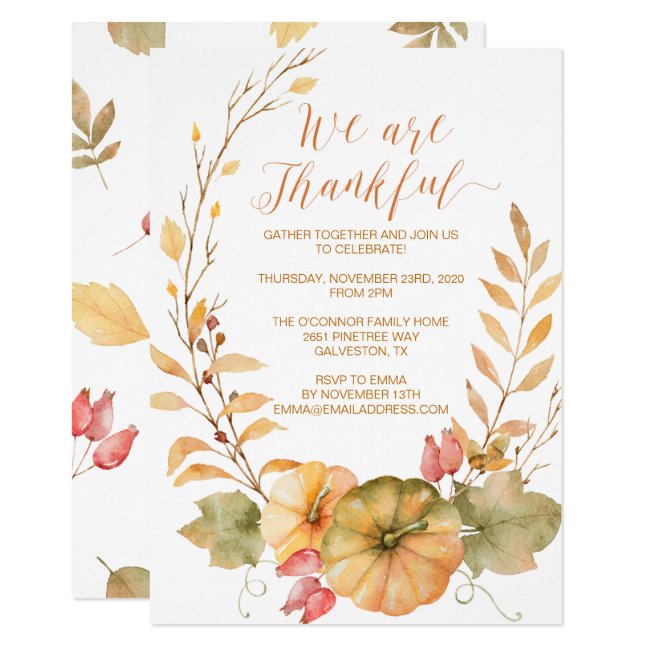 Rustic Thanksgiving Invitation Fall Invite
Rustic and Warm, these Thanksgiving invitations are the perfect way to invite your family and friends to give thanks and celebrate and give thanks together this Thanksgiving. This invitation can be customized with your party information.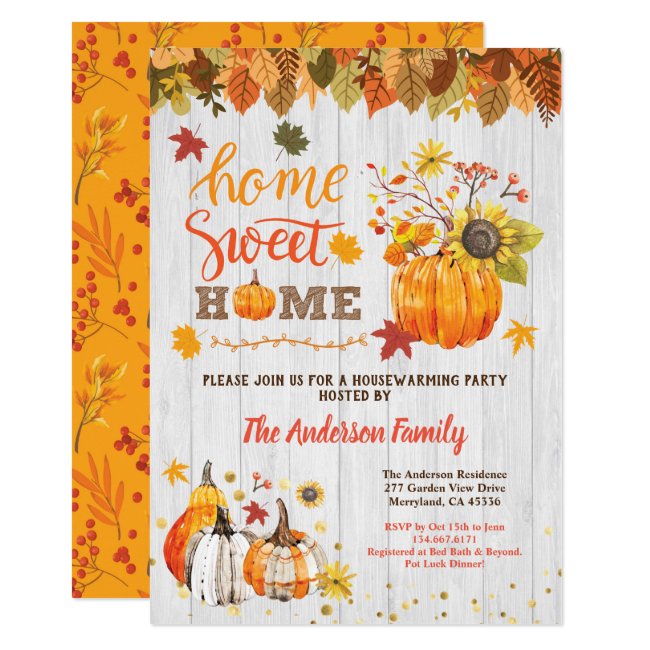 Pumpkin housewarming party rustic wood fall invitation
Elegant yet cheerful design with Autumn leaves wreath. Perfect for Fall, Thanksgiving, Halloween season. Get this adorable invitation now! (Different colors are available at our shop: crazylimeprints) Theme: Thanksgiving / Fall Style: Rustic, Shabby, Elegant Chic Colours: Brown, Orange, Faux Gold Graphics: Pumpkin, Autumn Leaves, Maple Leaves, Typography Art, Sunflower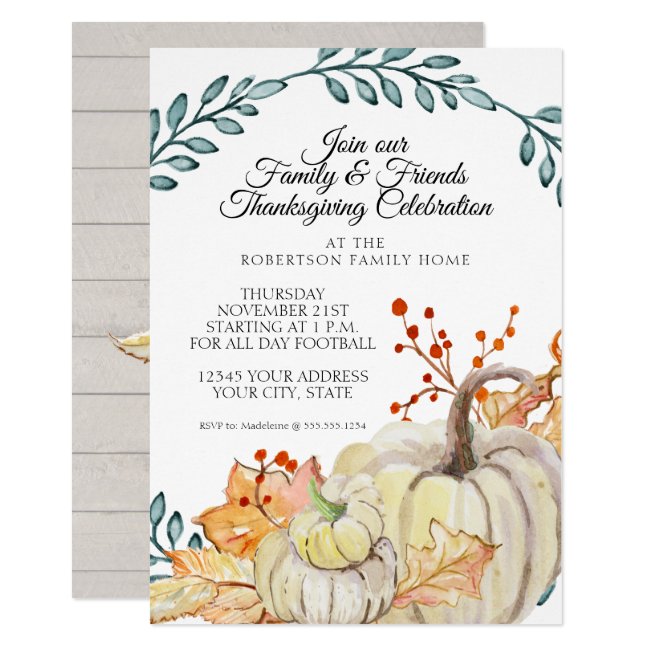 Thanksgiving Party Rustic Fall Leaf n Wood Pumpkin Invitation
Are you having a family and friends Thanksgiving party & feast or any other fall celebration? Easily change out the wording for any occasion. Modern, stylized trio of white pumpkins are decorated with fall leaves and berries contrasted with a country blue leaf wreath for a fresh style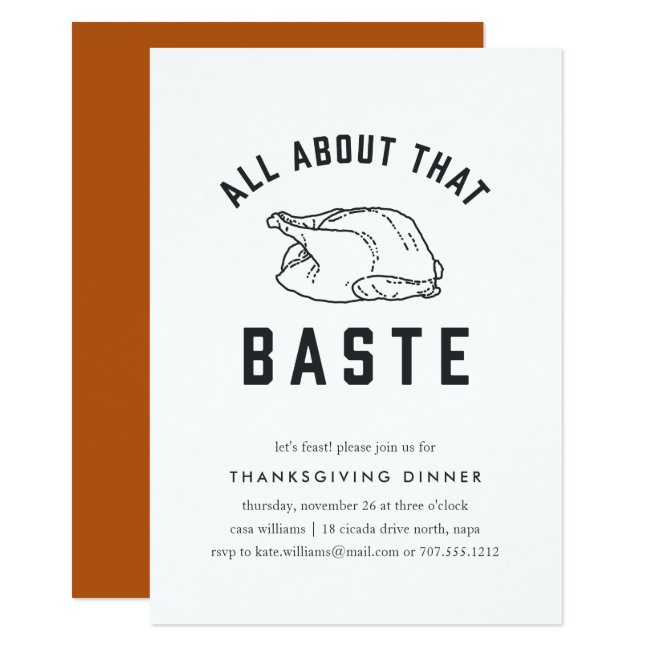 All About that Baste Thanksgiving Invitation
Invite friends and family to feast at Thanksgiving dinner with these modern and punny pop culture inspired invitations. Our bestselling Thanksgiving design, freshly updated for 2020, features "all about that baste" in modern block lettering with a Thanksgiving turkey outline illustration. Add your event details beneath using the template fields.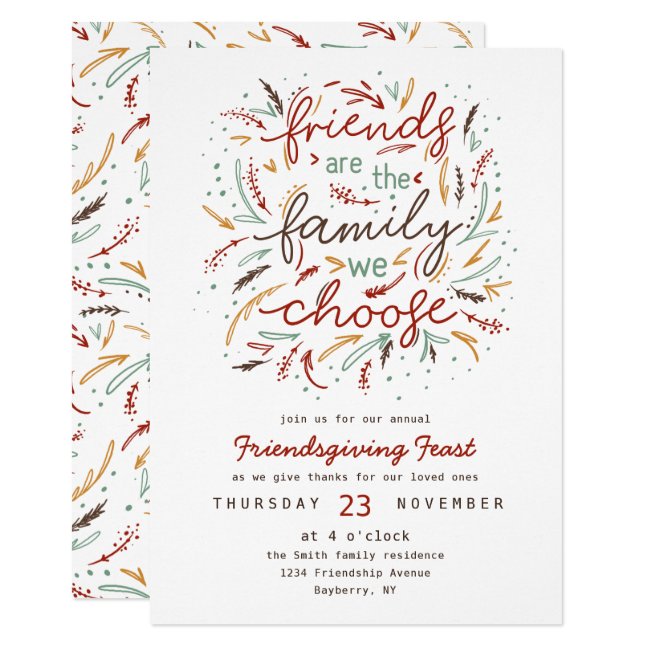 Friendsgiving Typography Thanksgiving Dinner Invitation
Friendsgiving Typography Thanksgiving Dinner Invitations - With adorable hand drawn leaves and berry doodles. Plus a heartwarming quote for your friends and loved ones "Friends are the family we choose". An upscale look for an affordable price! Hand drawn leaf and berry patterned backing. This Colorful sweet invitation is perfect for your Friendsgiving Feast celebration or a dinner party for friends. In a color palette of brick red, spa green, mustard yellow, and Dark Brown. A fun Thanksgiving invite. Coordinating stationery, tableware, and party decor is available for this collection - check my shop link or collection featured below the image.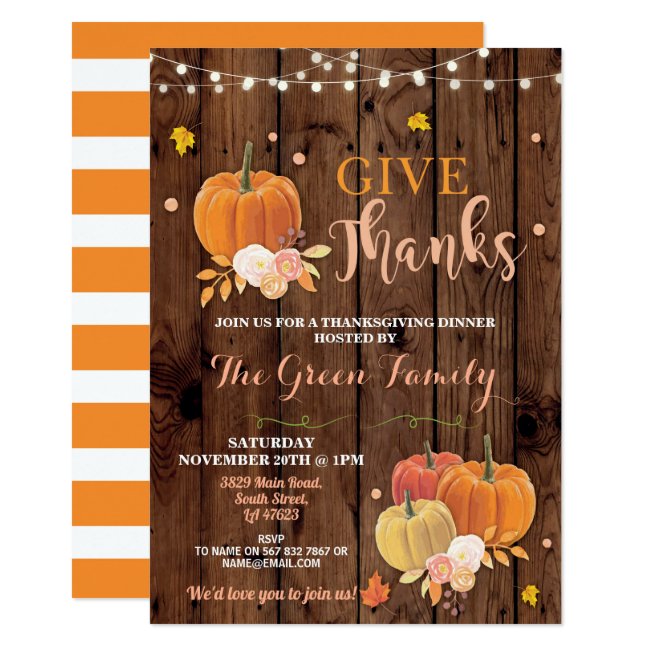 Thanksgiving Party Fall Wood Pumpkin Dinner Invitation
Rustic Fall Pumpkin Thanksgiving Dinner Party Invitation. Simply change the text to suit your party. Back print included.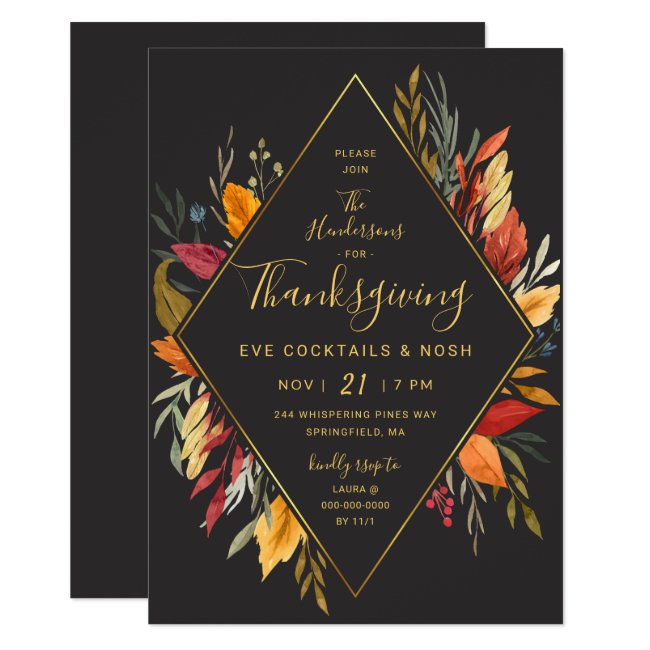 Thanksgiving Eve Cocktail Party Watercolor Foliage Invitation
Hand-painted watercolor autumn leaves and greenery. Thanksgiving Eve Cocktail Party invitation with easy edit handwritten lettering. All text can be edited; font choice and layout can be modified according to style and taste.