Sunflower Wedding Invitation Templates
Personalized sunflower wedding invitation templates. Compliment your sunflower wedding theme with these beautiful invites.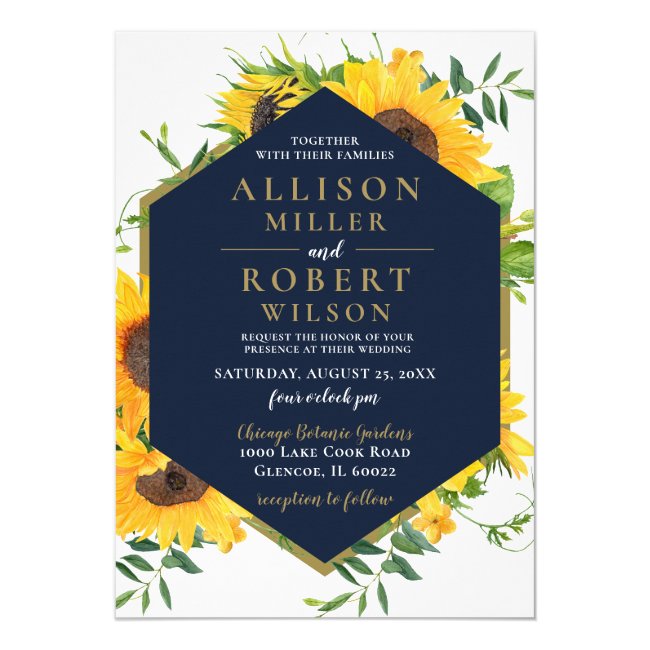 Watercolor Navy Blue Sunflower Rustic Wedding Invitation
Watercolor Navy Blue Gold Sunflower Rustic Wedding Design With Bouquet Of Sunflowers and Navy Blue Flowers, Beautiful Combination of Navy and Yellow for A Rustic Chic Wedding or a Country Wedding.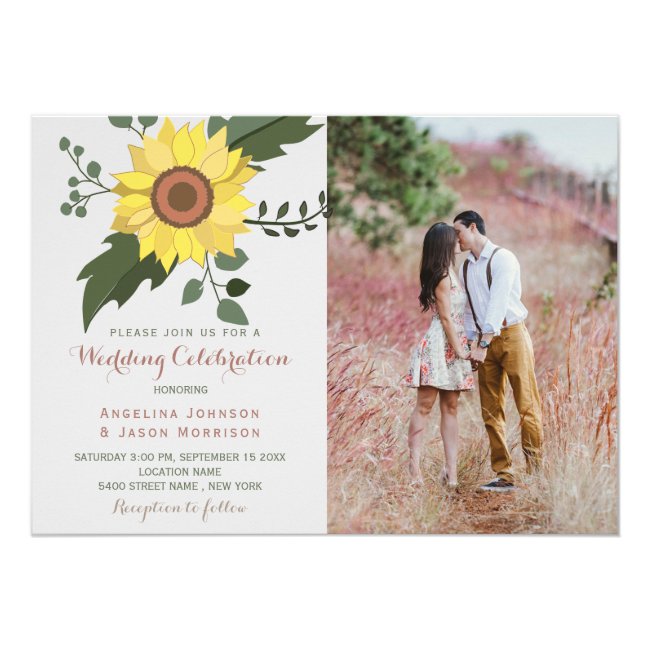 Sunflower Rustic Floral Country Wedding Photo Invitation
Rustic, giant sunflower and greenery in combination with beige background and trendy terracotta back side. Elegant, modern, unique wedding invitation with custom photo of the couple.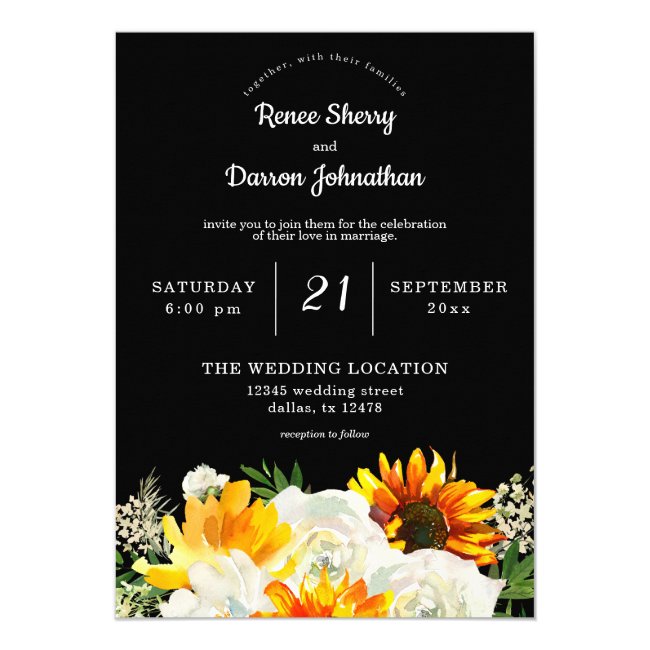 Sunflower & White Rose Floral Wedding - Black Invitation
Get your guests in the mood for happiness and sunshine with this sunflower and white rose floral, country wedding invitation.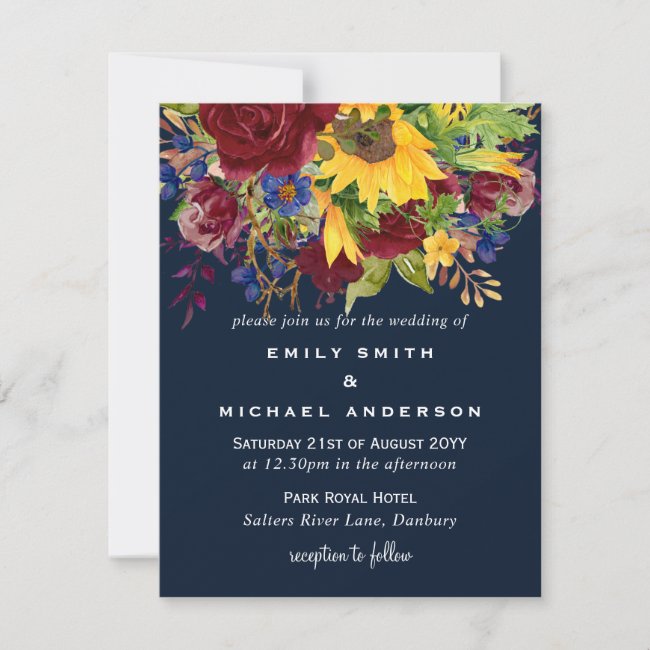 Sunflowers Navy Blue Burgundy Roses Wedding Invite
Wonderful rustic watercolor illustrated Sunflowers burgundy colored roses, blue flowers and modern typography against a navy blue background. Simple, fun, trending design and color for weddings this year. Text template fields both sides enable you to add all your details as desired including rsvp, gift registry, venue locations and more. If you want custom colors drop me a line ... you can have the invitations matched to your wedding theme colors.
Rustic Boho Sunflower Floral Bouquet Wedding Invitation
Set the romantic feel for your wedding day with this beautiful modern design. This wedding invitation forms part of a wedding suite with co-ordinating items available.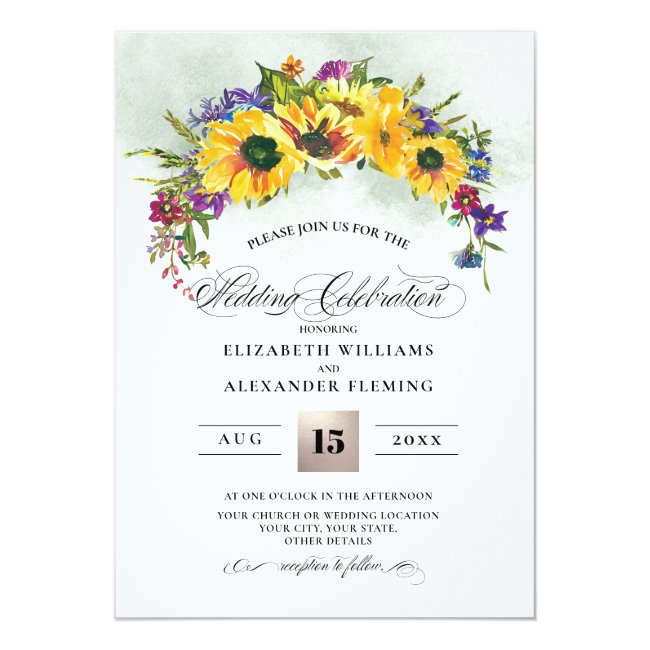 Sunflowers | Wild Meadow Summer Rustic Wedding Invitation
Sunflowers | Wildflowers | Wild Meadow Watercolor Painting Design with silver foil details Personalized Rustic Summer Wedding Invitations. Customize the names, date , text and all details of your Wedding Invitations. Matching Save the Date cards, Bridal Shower Invitations, Wedding Postage Stamps, Bridesmaid to be Request Cards, Thank You Cards and other Wedding Stationery and Wedding Favors and Gifts available in the Seasonal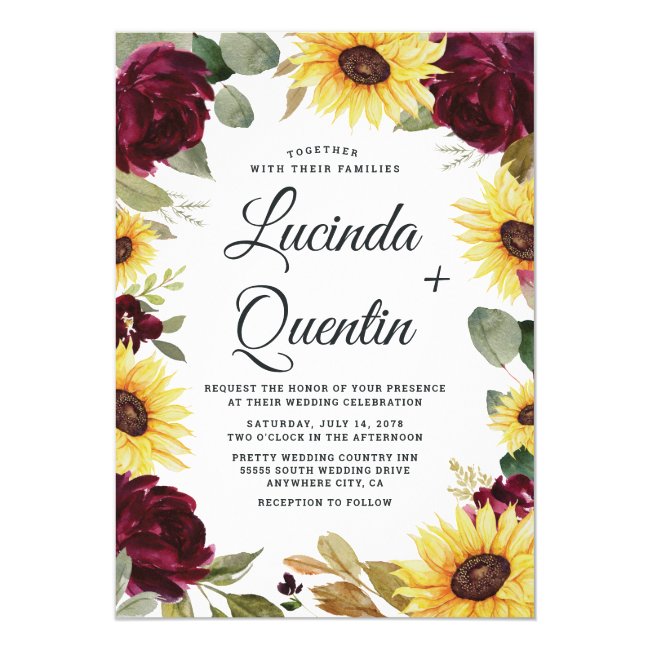 Sunflowers and Roses Burgundy Red Rustic Wedding Invitation
Design features beautiful watercolor sunflowers and burgundy red roses with elegant eucalyptus and other greenery elements.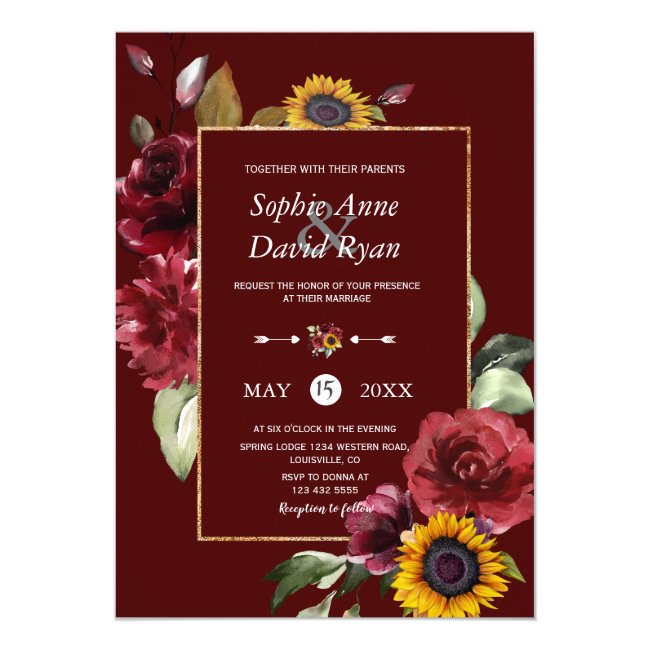 Royal Burgundy Sunflower Gold Wedding Invitation
Elegant design featuring watercolor burgundy flowers, sunflowers, faux gold frame, floral divider, on burgundy background colour. Use Personalize tool to add your info.