Quinceañera Invitation Designs
Personalized Quinceañera Invitation Design templates, you can personalize with own details.
Elegant Watercolor Pink Spanish Quinceañera Quince Invitation
Gorgeous elegant Quinceañera (Mis Quince Años) watercolor floral invitations. Blush pink roses with greenery and faux gold frame. Faux glitter gown dress in pink. Editable template - easy to add your text - Spanish wording. Perfect for girl's 15th birthday party.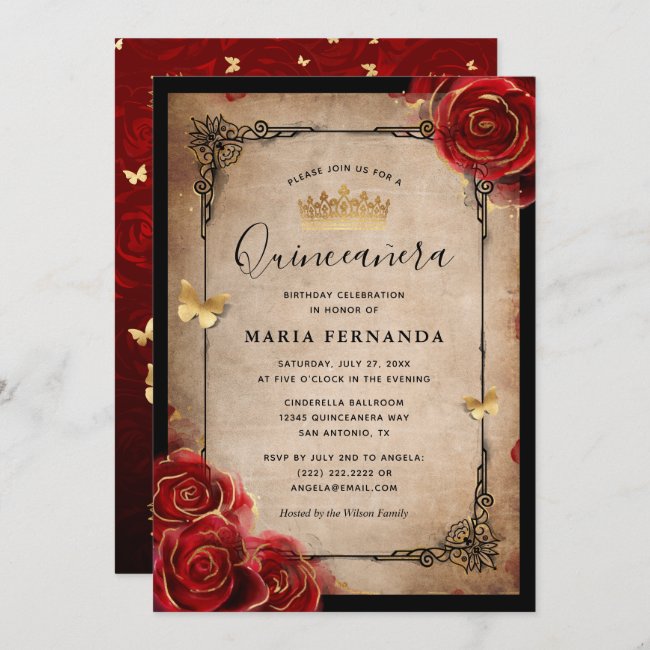 Vintage Red Rose Black Gold Elegant Quinceanera Invitation
Elegant vintage quinceanera invitations that you can easily have personalized for a 15th birthday, a sweet 16 celebration, or even a wedding. Simply change the script calligraphy type to match your celebration, and add in your own details. The botanical rustic design depicts romantic red roses in a watercolor ink, accented with antique gold highlights over an old worn parchment paper background with an ornate black border.
A gold tiara princess crown and butterfly confetti bring additional glitter, sparkle and pop. On the backside of the diy rustic quinceanera invitations, you can add additional text or even add a lovely mis quince anos photo over the ombre flower watercolor background. If you chose to customize the design further, you will see alternate "pick your own color" options for the butterflies, rose pattern, crown, and more...
They can be truly customized to meet your luxurious Mexican fiesta quinceañera theme perfectly! The deep red and black color palette combined with that old theater feel also makes this cool quinceanera template a good candidate for customization into masquerade ball invitations.
Category: sixteen/fifteen/15 birthday elegant quinceanera invitations; black quinceanera invitations; and floral quinceanera invitations. Quinceanera party theme colors: deep burgundy red rose, gold, maroon, black, tan, and white.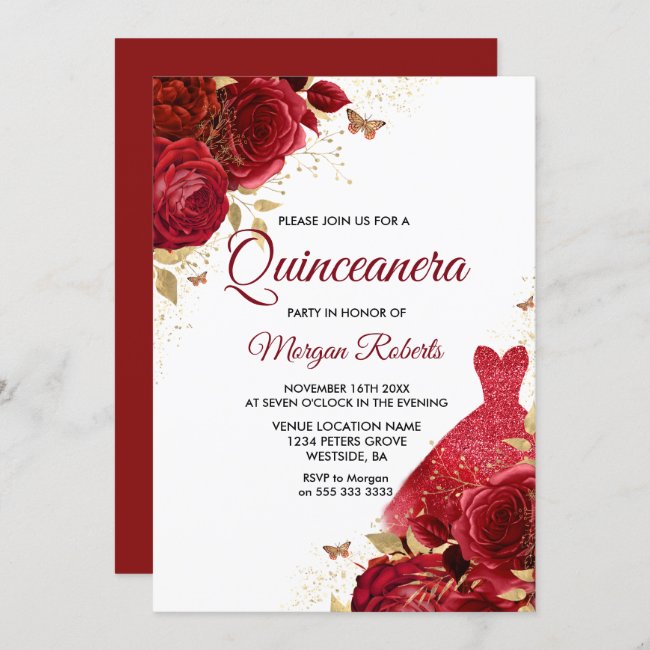 Beautiful Red Roses Sparkle Dress Quinceanera Invitation
Beautiful Red Roses Sparkle Dress Quinceanera Invitation Invitation More elegant floral designs in our store! See matching collection in our store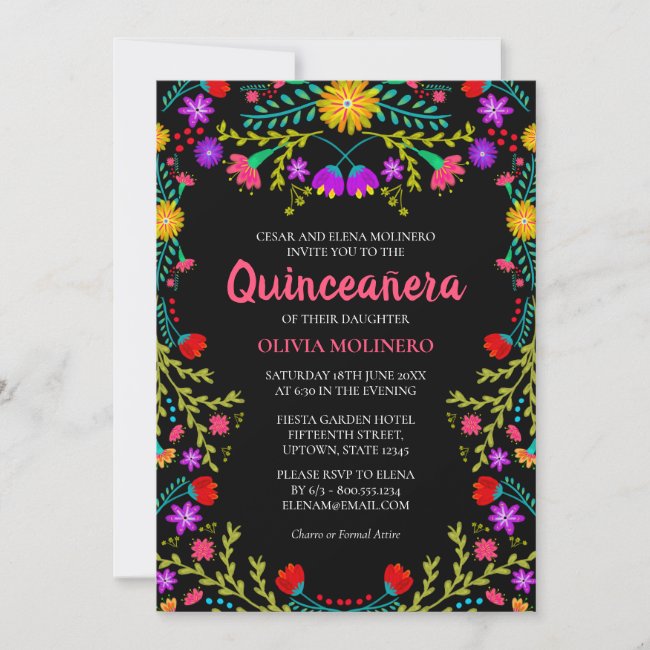 Quinceanera Mexican Fiesta Floral Black Birthday Invitation
Vibrant and pretty Quinceanera Invitation for your daughter's 15th Birthday celebration. This Mexican Quinceañera theme features colorful Mexican folk art flowers in red, pink, purple and yellow on a black background. The back of the card has a floral bouquet made from the same fiesta flowers. The template is set up ready for you to customize the card with all your personal details for your Mexican Fiesta Quinceanera party.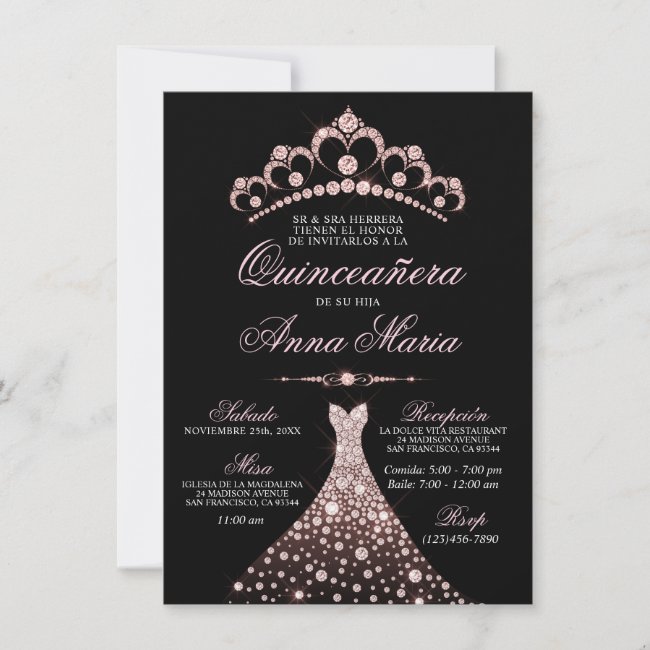 Elegant Spanish Quinceañera Mis Quince Pink Invitation
Modern yet elegant Quinceañera Mis Quince Anos invitations. Glitter diamond tiara / crown and dress / gown. Light blush pink and black colors. Easy to edit template cards. Perfect for 15th girl birthday party.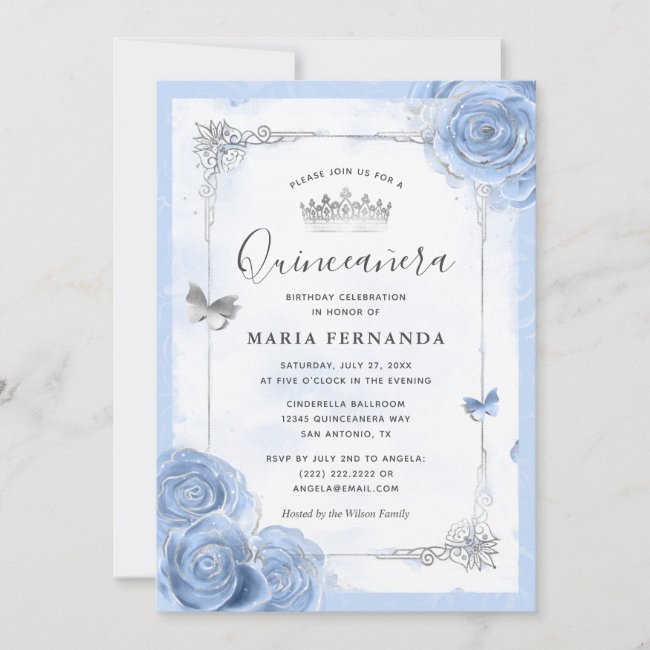 Silver Light Baby Blue Roses Elegant Quinceanera Invitation
Elegant light baby blue and silver quinceanera invitations that can be easily personalized for a sweet 15/15 birthday party! The pastel blue luxurious design features silver butterfly confetti along with light blue watercolor roses painted by Raphaela Wilson. On on both sides of the card, a fancy scrolled gown/dresses border accents the semi transparent white parchment paper.
By customizing this Cinderella themed design further, you can freely edit the calligraphy script and modern font selections, plus it's simple to alter the baby blue background colors. Included in this DIY template are additional svg graphics for the unique crown tiara, butterflies, and the rose pattern, which enable you to click on them to pick your own personalized color.
The elegant design can work beautifully for a Cinderella quinceañera, and also for fairy tale weddings, a sweet 16 birthday party, bridal shower, princess girl baby showers, and other special parties where a light blue and silver theme is desired. With plenty of room on the back of these elegant quinceanera invitations, add a Mis Quince Anos photo/picture or include some additional event info.
Come winter, spring, fall or summer, these modern quinceanera invitations can add sparkle and beauty to your big day! Category: template quinceanera sweet 16 invitations for her/daughter; floral quinceanera invitations; and light blue and silver wedding invitations. Cool light blue quince theme palette: powder pastel blue, dusty light blue sky,baby blue, royal blue rose, silver, gray, black and white.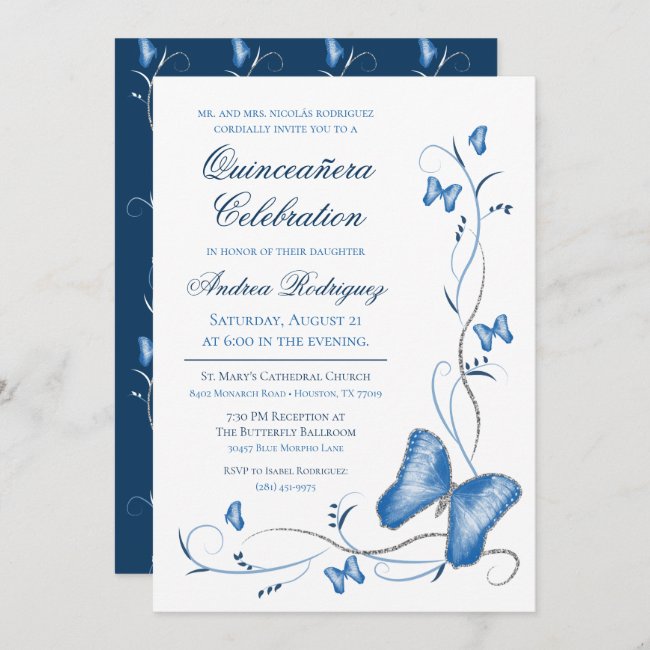 Blue Butterflies & Swirls Quinceanera Invitation
Spread your wings and soar with this delicate feminine design. Blue butterflies based from a photo of a blue morpho flutter across the page. Silver waves with a glitter texture weave through organic flourishes like a breeze. The back offers a navy blue contrast from the white front and displays a butterfly and flourish pattern. Perfect for quinceanera celebrations, sweet sixteen parties, or any young lady having a birthday.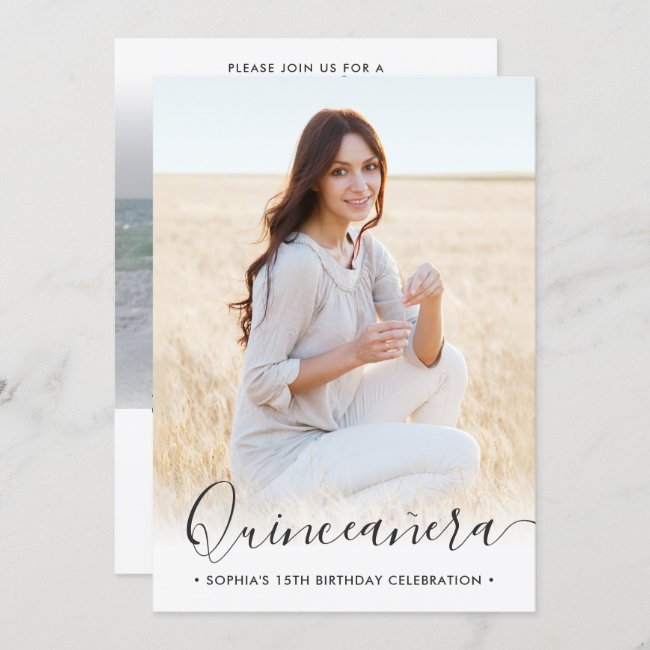 2 Photo Quinceanera Elegant Script 15th Birthday Invitation
Invite family and friends to an elegant Quinceañera celebration for her with this unique 2 photo invitation. All text is simple to customize. Design features two pictures of your choice, chic handwritten style script calligraphy, and stylish modern minimalist typography. This template is set up for a 15th birthday party, but can be personalized for any age or event. Trendy design is perfect for a teen girl. Feliz Cumpleaños quinceanera! Happy fifteenth birthday!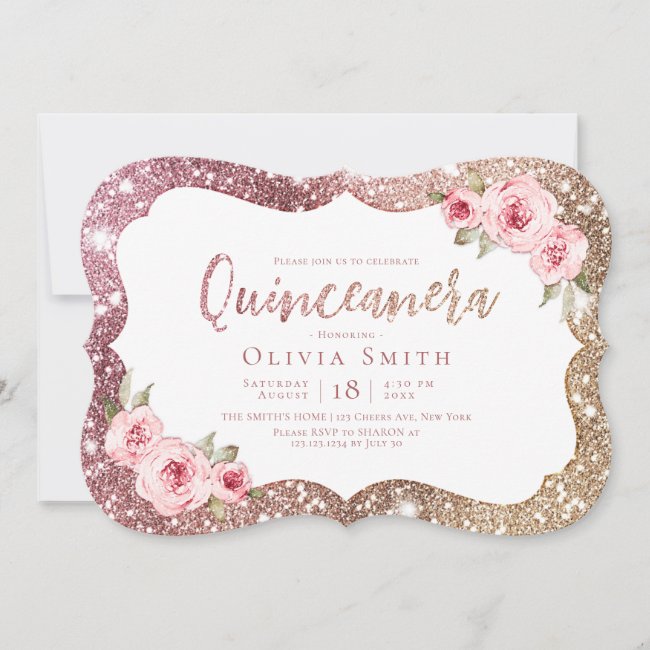 Sparkle rose gold glitter and floral Quinceanera Invitation
Faux rose gold sparkle glitter background and blush pink floral with "quinceanera" script in center, elegant and stylish, great quinceanera 15th birthday party invitations.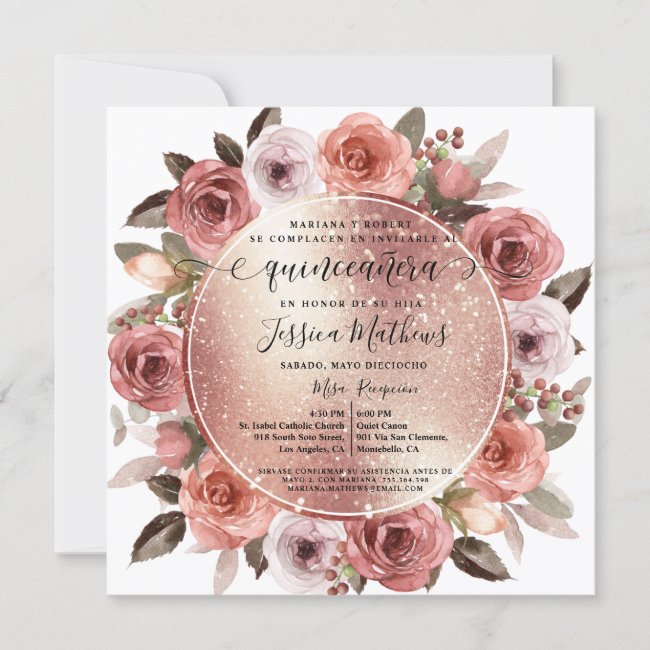 Spanish,Quinceanera Blush Floral Rose Gold Glitter Invitation
Enjoy a sparkling Rose Gold Quinceañera! Same invitation also available in English. Invitation with gorgeous sparkling faux gold rose center, surrounded by watercolor flowers in blush and dusty rose tones. Use of Script and block modern typography. Back of card with modern geometrical sections in "sparkling" rose gold and dusty rose shades. You can make changes to font size, style or position by selecting customize. "Rose Gold" Collection with coordinating mailing accessories and event products available.