Personalized Happy Birthday Banners
Personalized happy birthday banner, You are celebrate your birthday with those beautiful banners. You can customize all banners, add your name and photos.
Black and Gold Stars w/ Photo Any Year Birthday Banner
Honor the birthday person (man or woman) and welcome your party guests with this black and gold themed banner with gold stars ideal for celebrating ANY birthday. The design allows you to personalize it with their name and the number of their birthday (i.e., 35th or 42nd) by typing "Happy #) in the appropriate text field. PHOTO TIP: For fastest/best results, choose a photo with the subject in the middle and/or pre-crop it to a square shape BEFORE uploading and it will fill in the photo space perfectly. Contact the designer if you'd like this design modified, on another product or would like coordinating items for your party ensemble.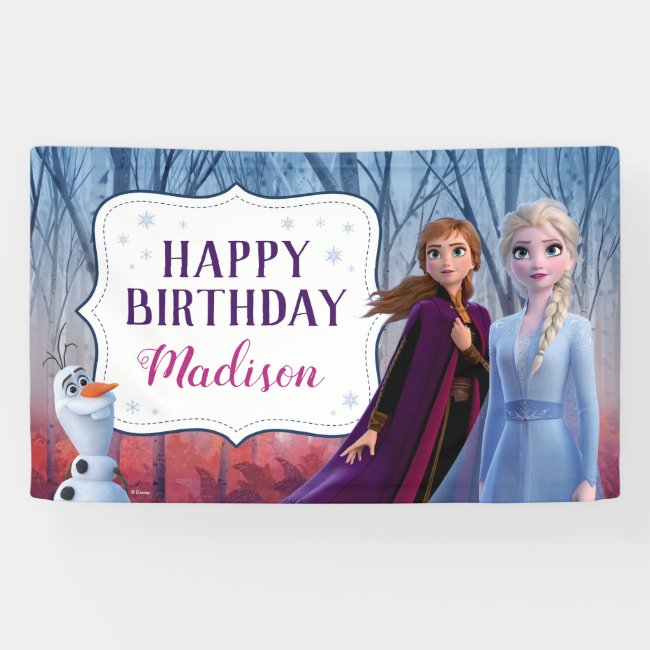 Frozen 2 - Anna & Elsa Happy Birthday Banner
Celebrate your Birthday with Anna & Elsa this awesome Frozen 2 Birthday banner. Personalize by adding your name or custom text!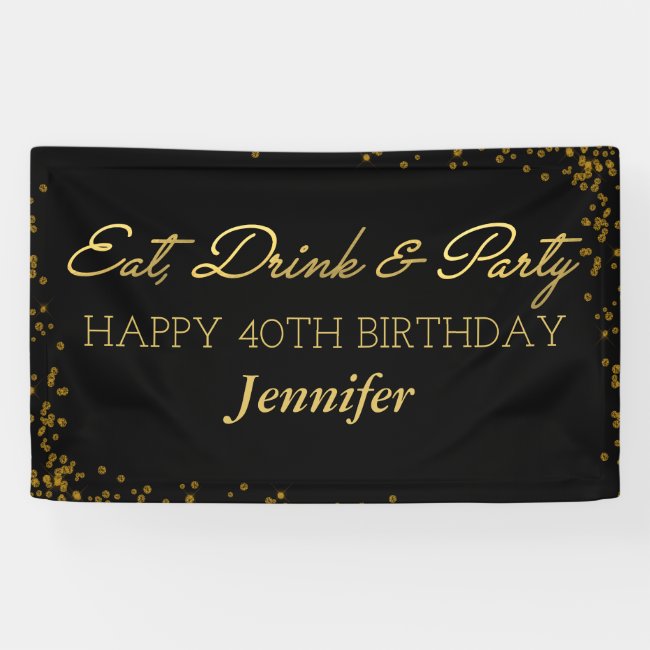 Black and Gold Glamour Adult Happy Birthday Banner
Elegant unisex birthday party banner featuring a stylish black background that can be changed to any color, with the words "eat, drink and party" in a faux gold foil script and a simple text template.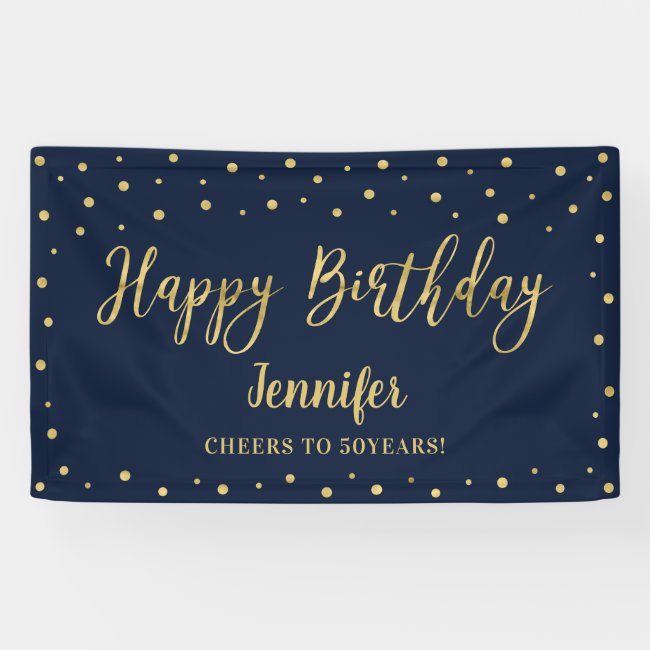 Gold & Navy Happy Birthday Party Banner
This stylish birthday banner design features gold "Happy Birthday" typography on a navy blue background. You can personalize name & year text and the background color. Perfect decoration to your modern chic adult birthday party.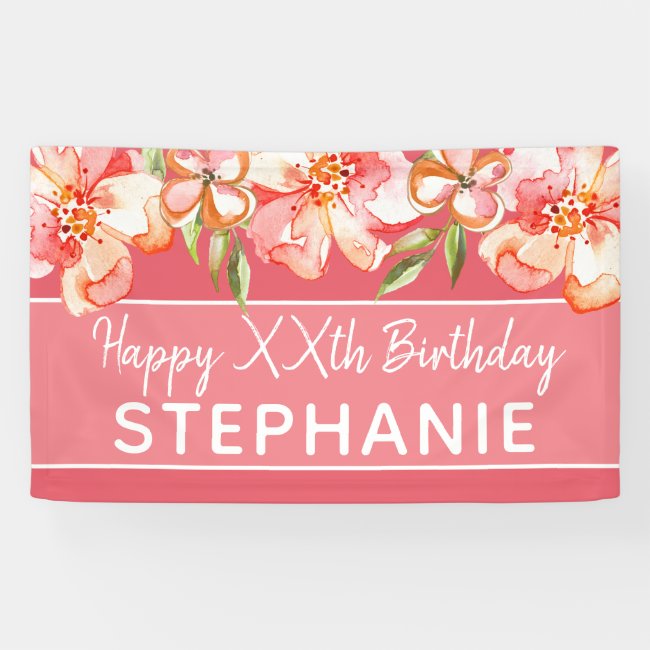 Happy Birthday - Watercolor Painted Flowers Banner
Personalize this collection of birthday party favors and invites with bright colors and fun fonts. A trendy pattern with an area to personalize text for any birthdays - from 1st to 40th or 30th. Customize with the name of the woman or girl along with the appropriate year.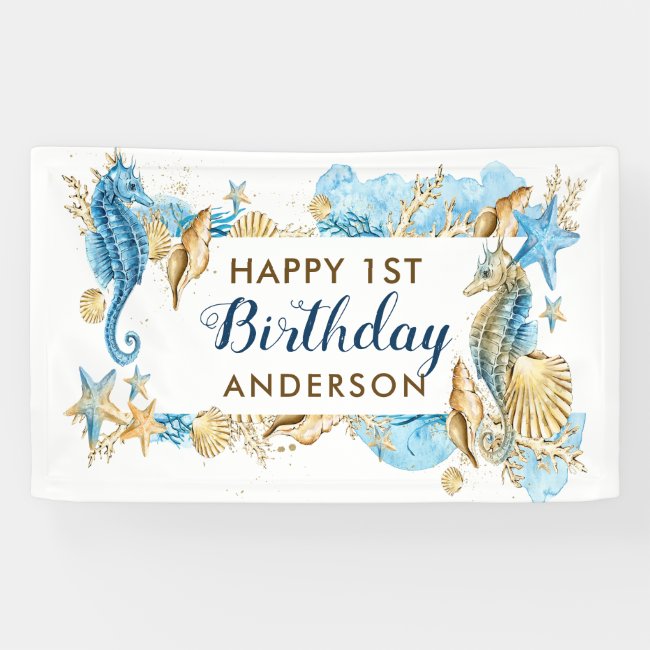 Sea and Beach Blue Gold Seahorse Birthday Party Banner
Sea and Beach Blue Gold Birthday Party Banner featuring seahorses, starfishes, seashells and coral reefs. For more advanced customization of this design, Please click the "Customize" button above! Matching items are also available.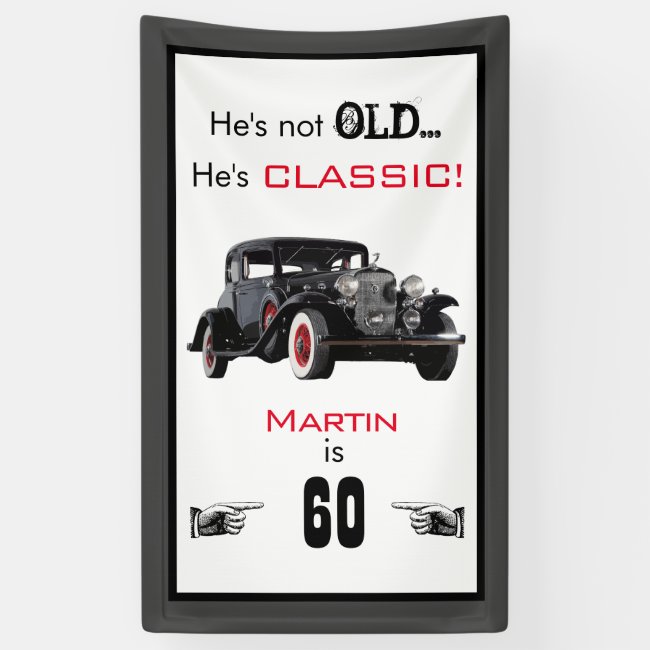 Custom Not Old Classic Car Vintage Birthday Banner
Personalize this classic old vintage car banner featuring retro typography and the colors of black, red, gray, and white, with his name and age to celebrate his birthday! Have a fun time at his birthday party! Great for the old or classic car lover and coordinates with other items in my "He's Not Old, He's Classic" birthday collection.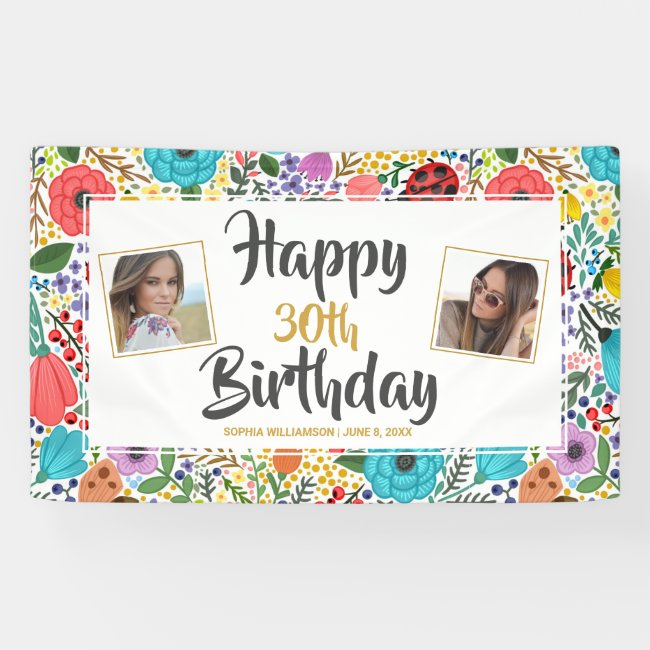 Flower Birthday Party Any Age Name Custom Photos Banner
Make someone feel special with this custom Happy Birthday banner featuring photos of the birthday person, name, year/age and date framed by a floral botanical wildflower border accented with greenery, berries and lady bugs. Perfect for any age birthday.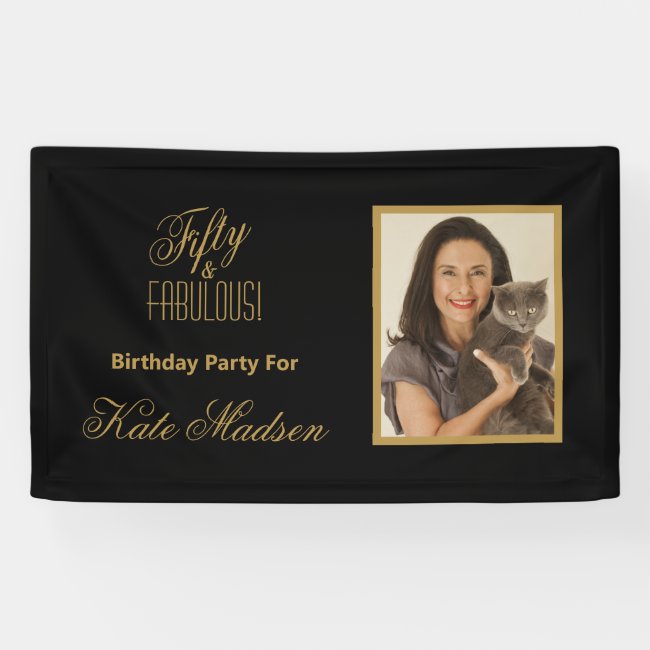 Fifty & FABULOUS! Black & Gold Birthday Photo Banner
A simple, chic, 50th birthday design, in elegant black and gold. The words "Fifty & FABULOUS!" are designed with complimentary fonts, using typography. The text can be changed, using the edit menu. Other colors are also available. Pair with matching party supplies and gifts for a fabulous 50th birthday celebration to remember!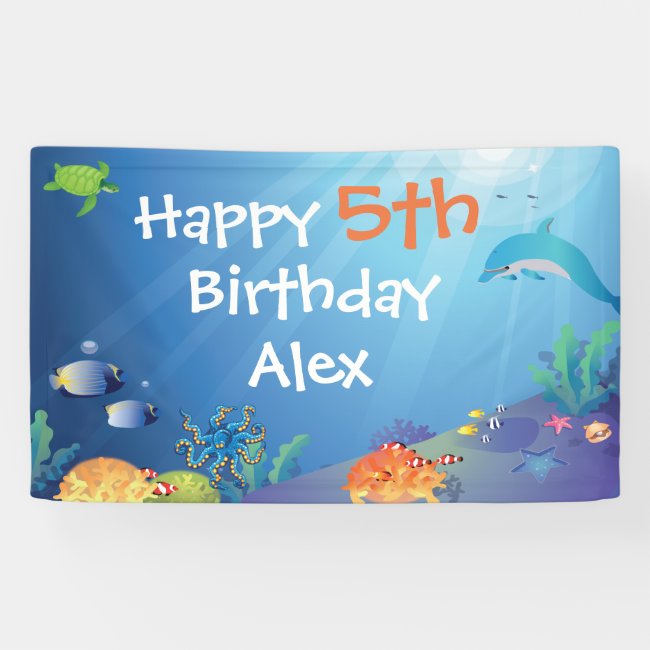 Under the Sea Happy Birthday Kids Banner
Sea creatures under the sea illustration for children's birthday party. Edit all text. The colorful image shows an underwater scene with a sea turtle, dolphin, octopus, and several fish and coral. Great for little ocean lovers!