Personalized Halloween Ornaments
Custom halloween ornament templates. these scary ornaments are personalized you can add text and/or photo
Baby's First Halloween Keepsake Gift Ornament
This ornament features a baby pumpkin on a purple background. Add your baby's first Halloween picture on the back. Customize with your child's name and picture. Great gift for new parents. Hang as a decorative ornament or doorknocker.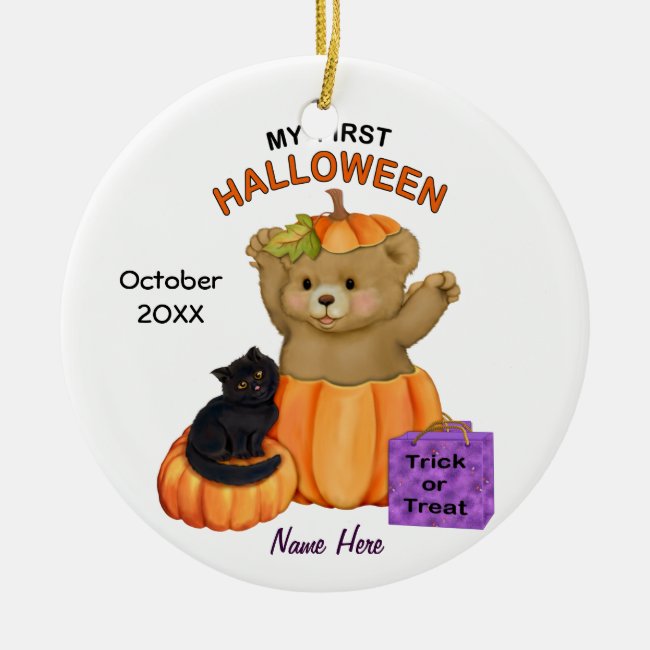 First Halloween Teddy Ceramic Ornament
Adorable teddy bear popping out of a pumpkin to announce his or her first Halloween. Cute black cat and trick or treat candy bag add wonderful holiday detail. Customize name and date areas.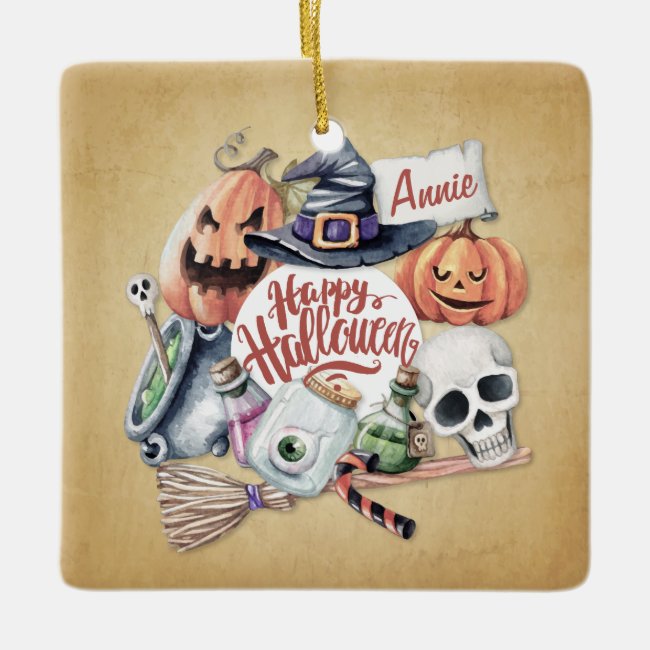 Personalized Vintage Happy Halloween | Ornament
For further customization, please click the "Customize" button and use our design tool to modify this template. If the options are available, you may change text and image by simply clicking on "Edit/Remove Text or Image Here" and add your own.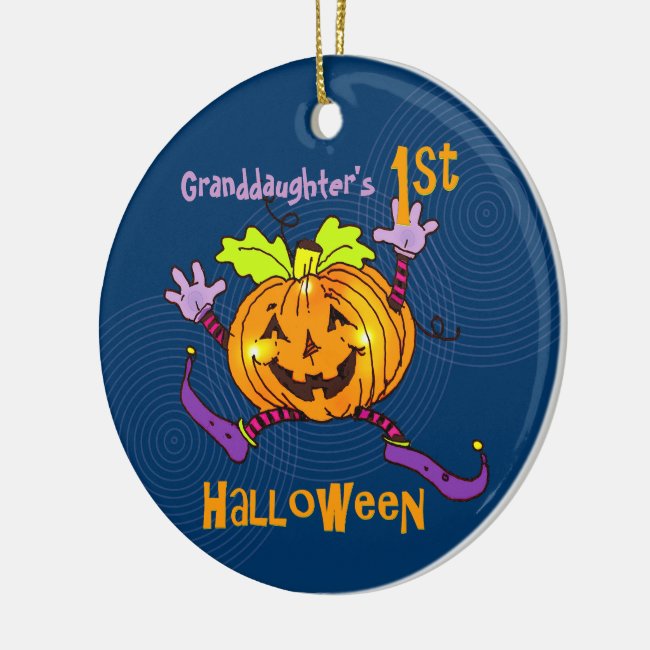 Granddaughter 1st Halloween Happy Pumpkin Ceramic Ornament
Your Granddaughter will giggle when she sees this delightfully happy pumpkin dancing across a 1st Halloween keepsake ornament in his violet dancing shoes, gloves and striped leggings? Text may be personalized in template provided. Adding your Granddaughter's name would make this a very special keepsake.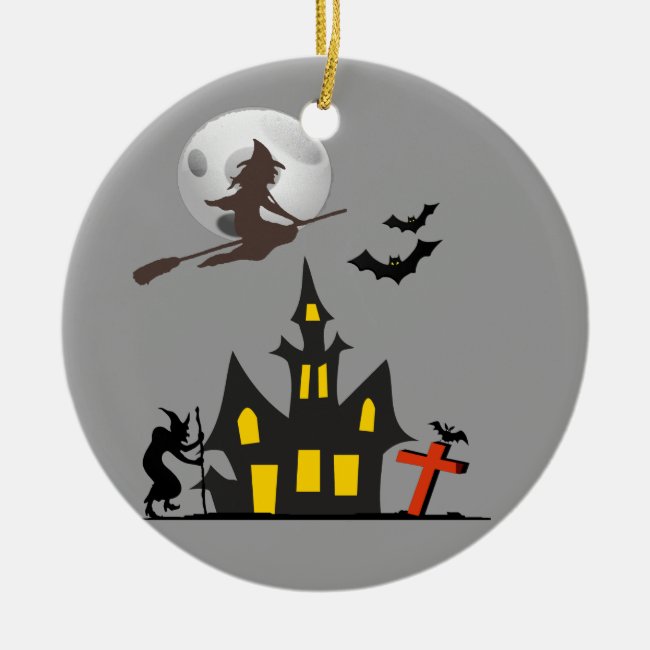 Halloween Haunted House Ornament
On a full moon day around the haunted house, there are witches, and bats are flying. This design is customizable and is available for a variety of products. Text adding is optional.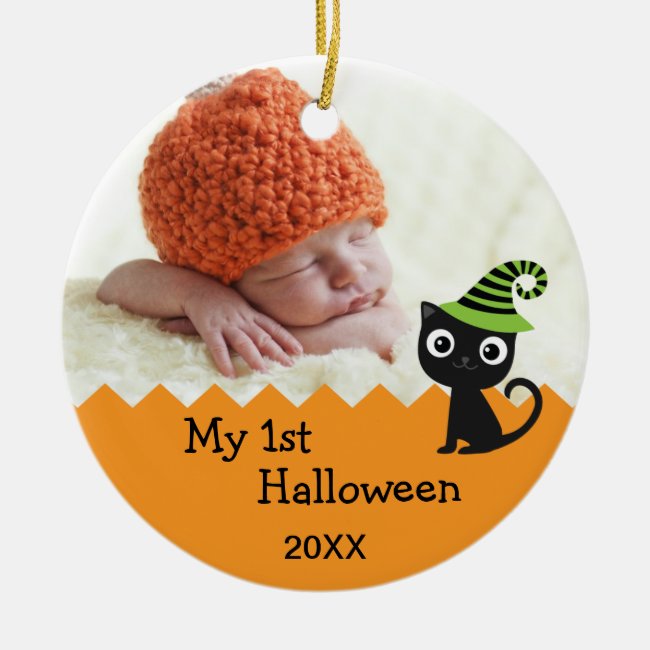 Cute Cat My 1st Halloween Ornament
This ornament is an ideal keepsake of baby's first Halloween. It features a cute cat character with a witch's hat. Add a picture of the baby for added cuteness. It also features the year.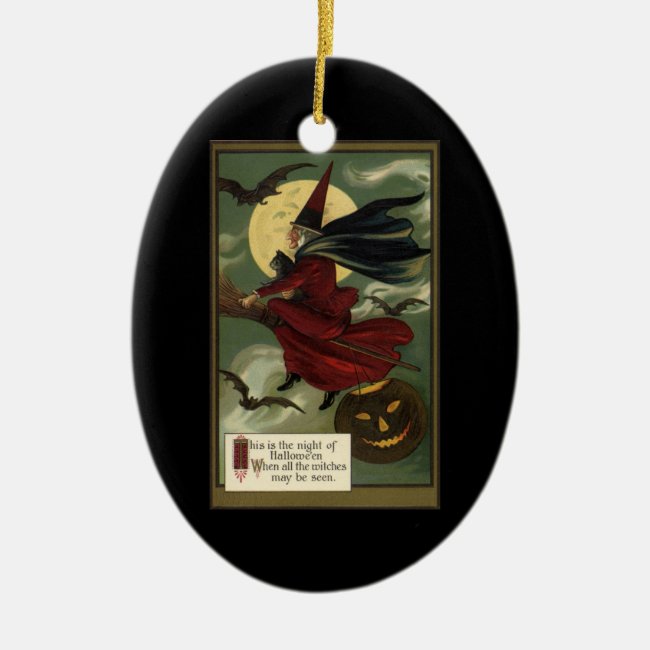 Vintage Halloween Witch Riding a Broom with Cat Ceramic Ornament
Vintage illustration Halloween holiday design featuring a wicked evil witch flying on a broom with her black cat in her lap. They are flying through the night sky on All Hallows Eve with a full moon, bats and a spooky jack-o-lantern pumpkin. This is the night of Halloween when all the witches may be seen.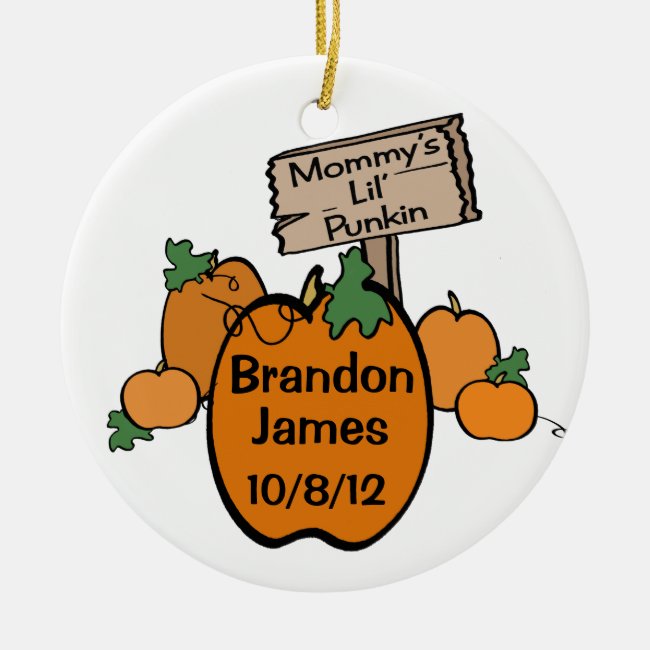 Mommy's Lil' Punkin Ceramic Ornament
"Mommy's Lil' Punkin" photo keepsake. Fun orange pumpkin with a place for your child's name, birthday and photo.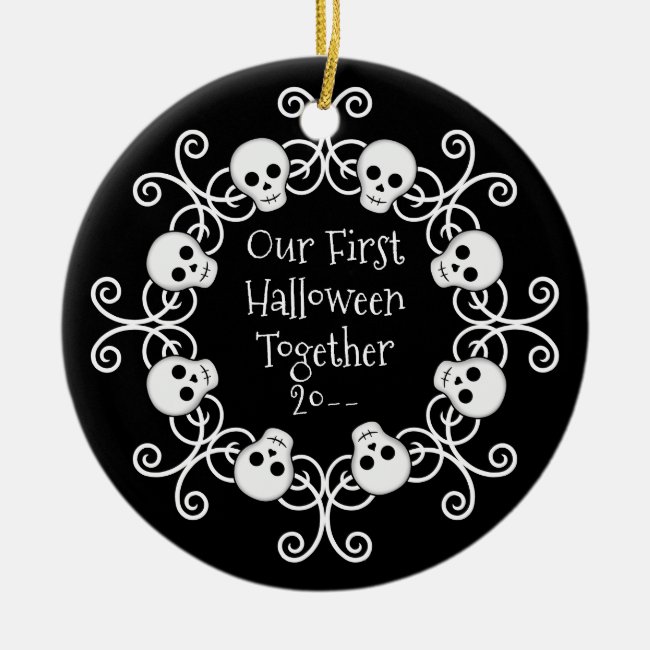 First Halloween together skull wreath Ceramic Ornament
An ornament to commemorate a first Halloween together. This features hand drawn skulls and swirly wreath. Add a date on the front, and names on the back.
Funny Halloween Witch Ceramic Ornament
Funny witch t-shirts and gifts with picture of a wicked witch flying sideways on her broomstick with text that reads, learner's permit. Humor Halloween products and fun gifts for trick or treaters and Halloweeners.