Floral Wedding Invitation Templates
Beautiful,modern and floral wedding invitation templates. Personalize invites with your your details or add an additional wording to it.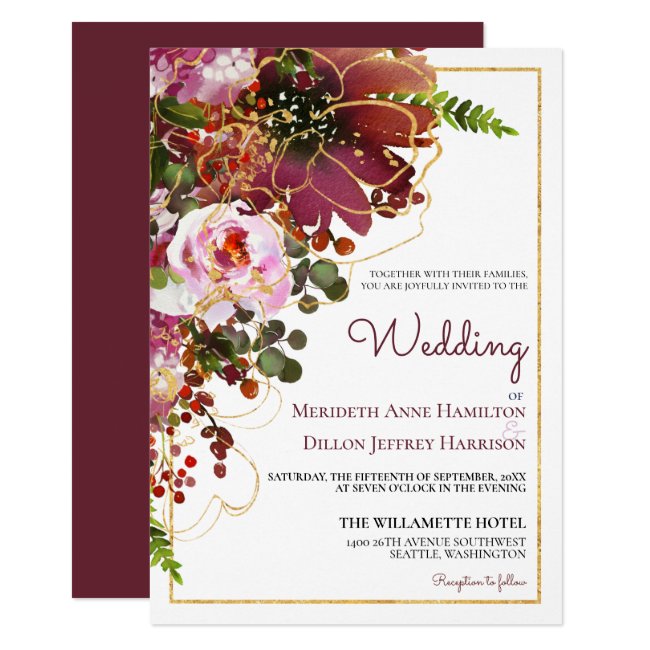 Burgundy Blush Floral Gold Modern Elegant Invitation
This beautiful and elegant floral boho wedding invitation features your own photo, a modern burgundy and blush watercolor floral bouquet and greenery with sketches of faux gold flowers as an overlay, and vintage hand lettered script and elegant gold geometric frames, with your wedding information on the front and reception, RSVP, and wedding details, including wedding website, on the back. . Easy to personalize with your own wedding information. This collection is perfect for the formal, modern, floral, vintage, romantic, outdoor, trendy, or rustic wedding venue and will work well for the spring, summer, fall/autumn or winter wedding.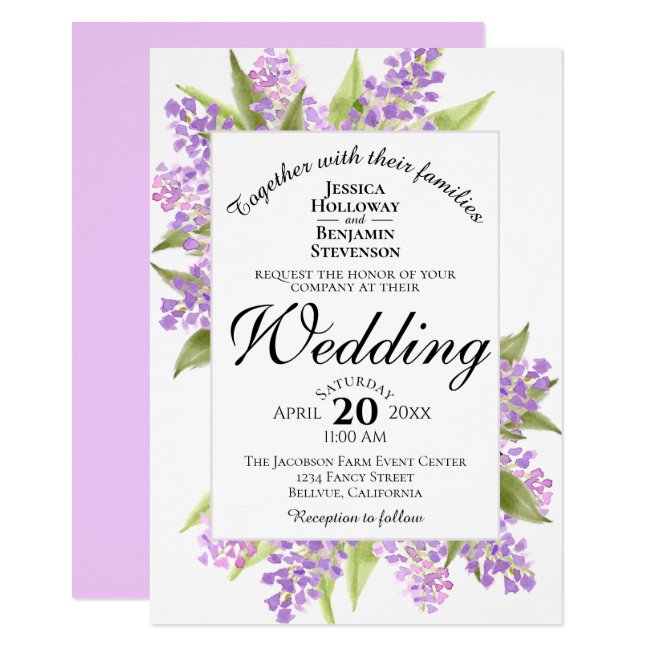 Watercolor Lilac Bouquet Spring Floral Wedding Invitation
This beautiful wedding invitation features a bounty of hand painted watercolor lilacs on a white background with green leaves and foliage scattered about. Perfect for a rustic spring wedding. The back is light purple or lavender with a lovely bouquet of lilac flowers tied with a white bow.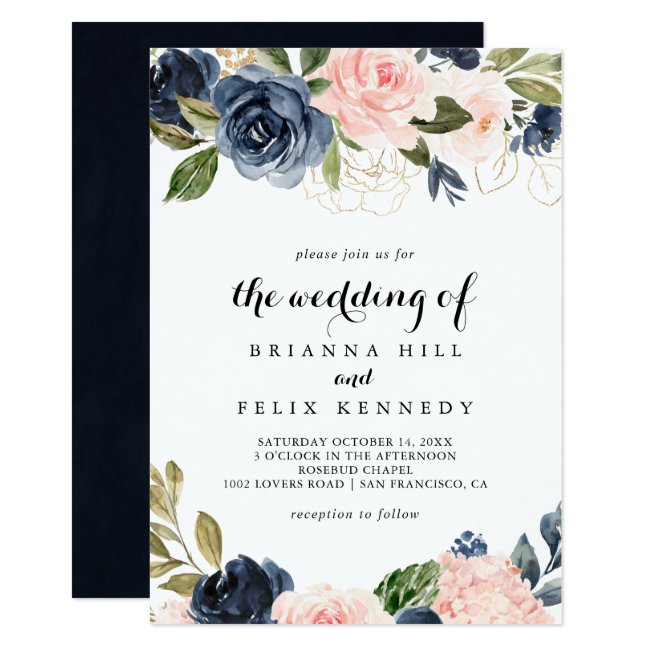 Elegant Simple Unique Winter Floral The Wedding Of Invitation
This elegant simple unique winter floral the wedding of invitation is perfect for a modern wedding. The design features beautiful hand-painted dark blue, blue, navy, pink , blush, gold flowers and green foliage, bunched into elegant bouquets.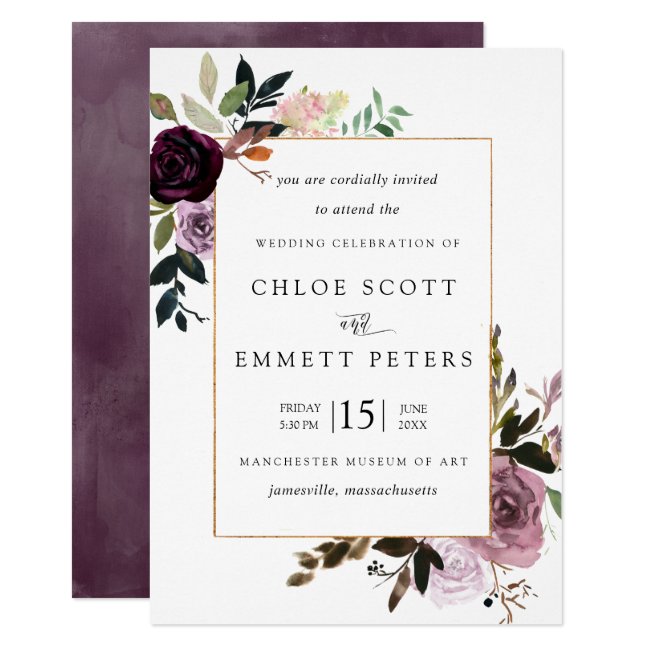 Plum Purple Mauve Pink Floral Wedding Invitation
Elegant and chic DIY wedding invitation template. Deep plum purple and lighter mauve pink roses create a beautiful floral arrangement on a thin gold frame. The large variety of leaves and vines give it a modern botanical vibe. It's very easy to substitute your wedding details for that shown in the template. This wedding invitation is part of a larger Mauve Roses collection that contains many coordinating items. Please contact me if you need help finding an item.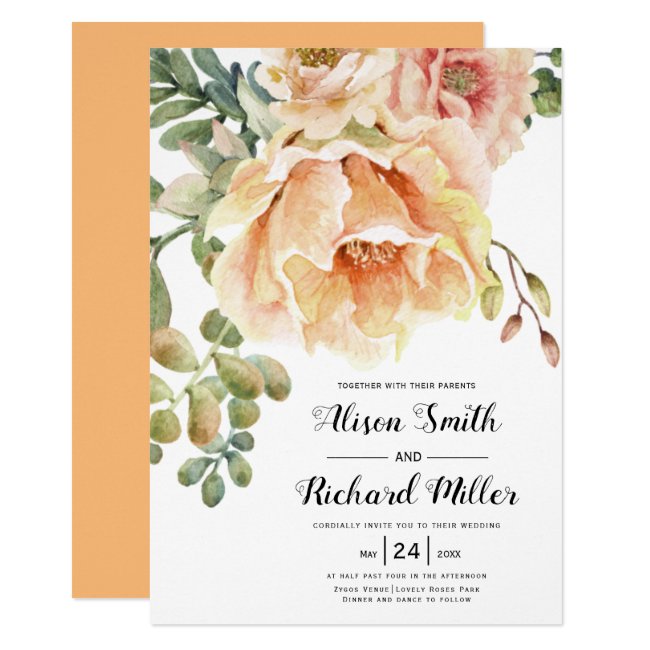 Watercolor peach coral flowers typography wedding invitation
Watercolor peach coral flowers script typography wedding invitation. It showcases a beautiful bouquet of cactus flowers and succulent leaves in peach and coral and your text. The names are in script typography. The back is of solid peach color.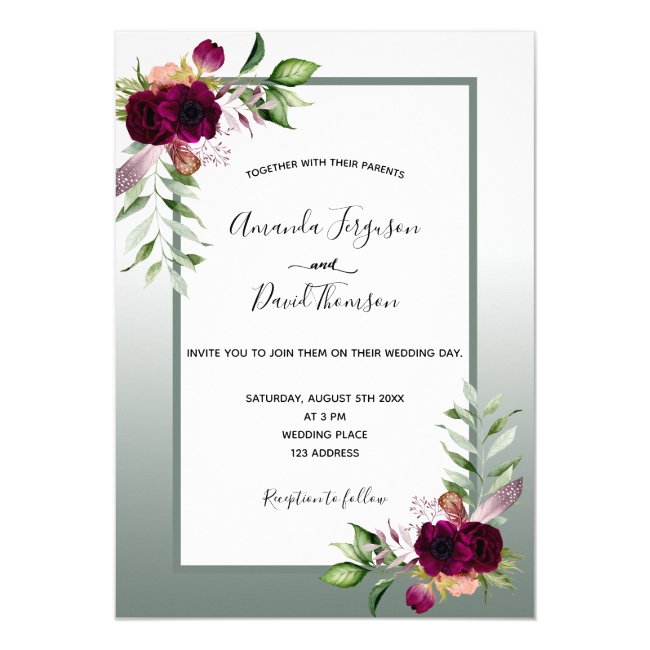 Sage green burgundy watercolored florals wedding invitation
Sage green gradient with a sage green and white frame. Decorated with flowers, roses in burgundy with greenery. Templates for Your names and wedding details. The names are written with a hand lettered style script, black colored letters. Back: sage green gradient background.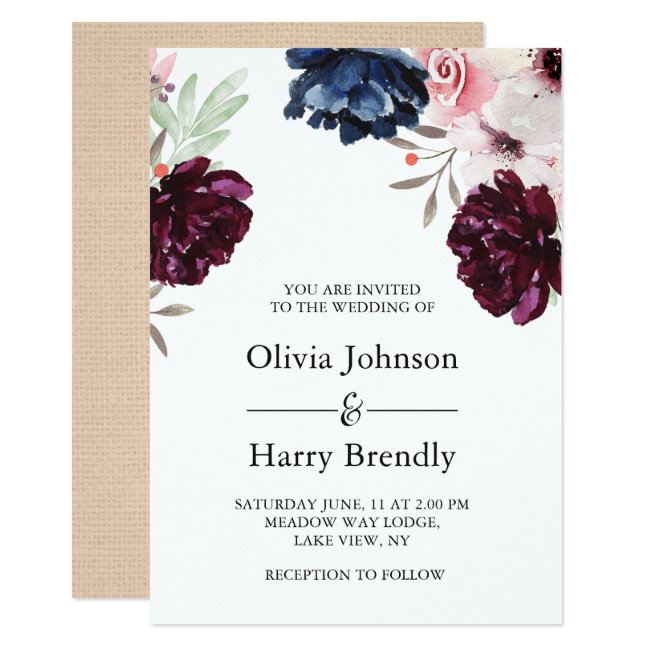 Burgundy Blush Rustic Burlap Floral Wedding Invitation
Personalize these elegant floral wedding invitations in burgundy and blush tones with a hint of navy blue. The beautiful watercolor flowers look stunning on a classic white background. The back of the card has a rustic burlap design.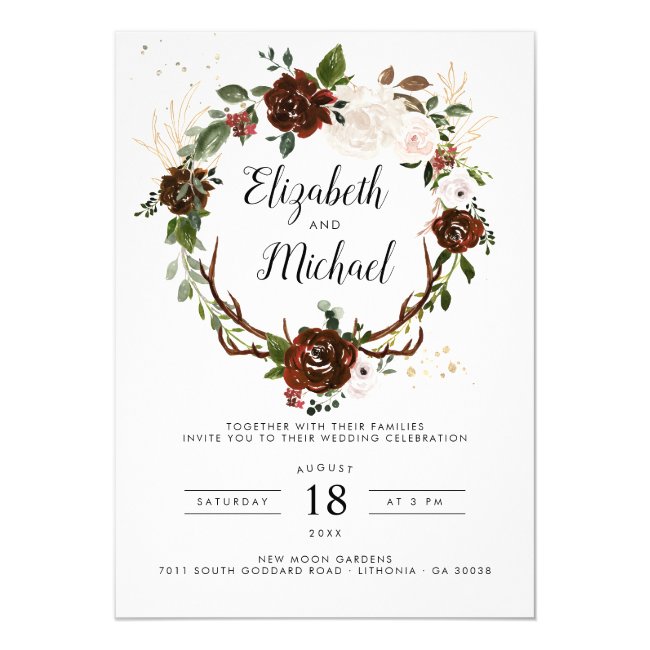 Rustic Floral | Boho Botanical Wedding Invitation
A crackling fire, woodsy aromas, and earthy ambience is what this collection is all about! Cozy up to a palette of warm blackish browns and romantic merlots! With delicate ivory and forest greenery to rein it in. This understated combo unexpectedly comes together in the most beautiful way. Great for black tie affairs or cozy mountain celebrations alike. This theme will forever be timeless, with rich red and shining gold or silver accents adding in high-class moodiness to create a strong visual impact. Whether ballroom, barn, or backyard—​this organic color palette goes the distance — It's totally woodsy and rustic, and especially boho chic. Simple yet elegant these designs are perfect for any celebration. These designs can be personalized for your special occasion and would be perfect for your wedding, bridal shower, engagement party, birthday party and many more special occasions. Add your custom wording to this design by using the "Edit this design template" boxes on the right hand side of the item, or click the blue "Customize it" button to arrange the text, change the fonts and colours and to also add additional information or images to this design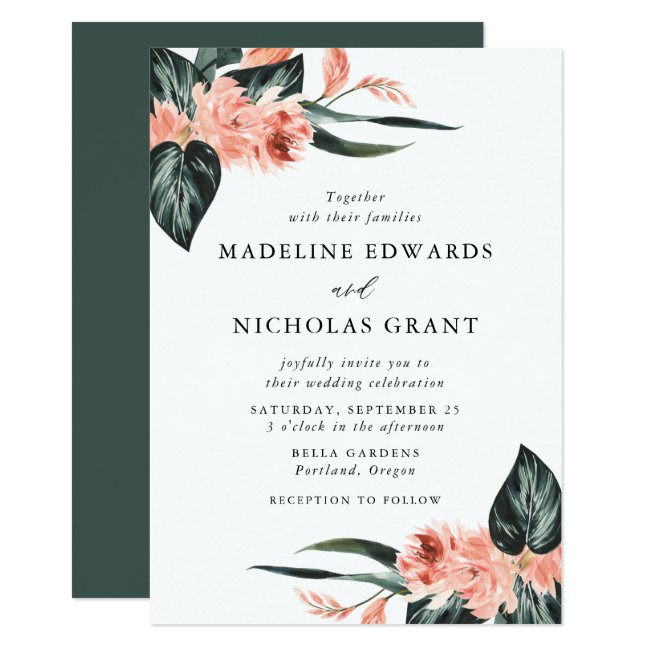 Watercolor Tropical Coral Floral Bouquet Wedding Invitation
Invite guests to your tropical-theme wedding in style with our Watercolor Tropical Coral Floral Bouquet wedding invitation. The tropical wedding invitation displays your names and wedding details with bouquets of coral watercolor flowers and dark green tropical leaves at the top left and bottom right corners. The invite reverses to a solid dark green background. The invite is perfect for tropical, beach, and garden weddings!