Class Of 2023 Grad Party Invitation Templates
Class Of 2023 personalized graduation party invitation templates. You can customize all text and photos
Gold Sketch Graduate Cap Class Of 2020 Grad Party Invitation
Bold Gold 'Graduate' Typography Scribbles With A Black Graduation Cap / Mortar Borad Accent On A White Background, Class Of 2020 Graduation Party Invite Card. All design elements are moveable and editable. More edit options within the customization page. You can change the background color to any color of your choice. Designed by fat*fa*tin. Easy to customize with your own text, photo or image.
2020 Navy and Gold Photo Graduation Party Invitation
Announce your class of 2020 high school graduate in style with this graduation announcement and party invitation. Two-sided card features two square photos of the graduate and a simple and masculine design with sports jersey inspired lettering, perfect for your all-star student and varsity athlete. Classic navy blue, antique gold, and white colors. Background color can be customized to match your school colors. *Photo Tip: crop your photos to a square shape before uploading. To upload photos, click "Change" next to the default photos.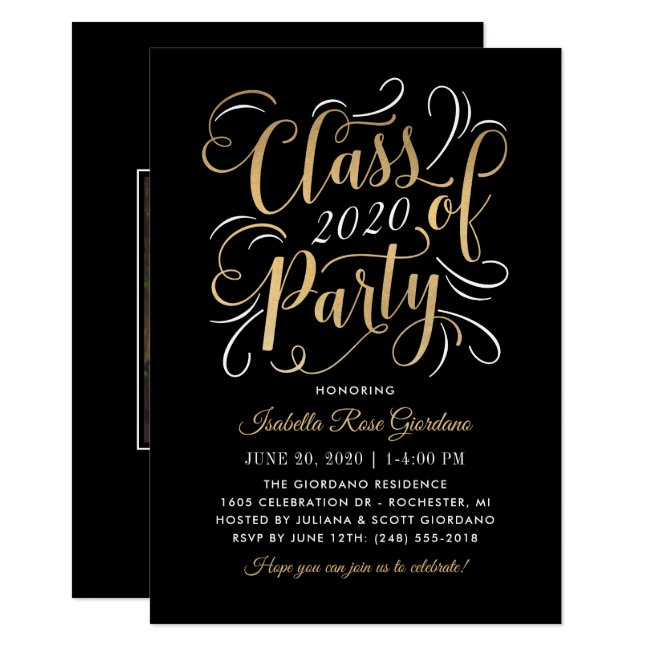 Black Class of 2020 | Gold Script Graduation Party Invitation
Stylish two-sided graduation announcement card and party invitation features an elegant faux gold foil "Class of 2020 Party" design in script with pretty scroll accents. Front of the card also includes custom gold and white colored text that can be personalized for the event. The back of the card announces the graduation with a photo of the graduate, their name, class year, and school. The black background color can be modified. Photo tip: crop your second photo to a square format before uploading to the site.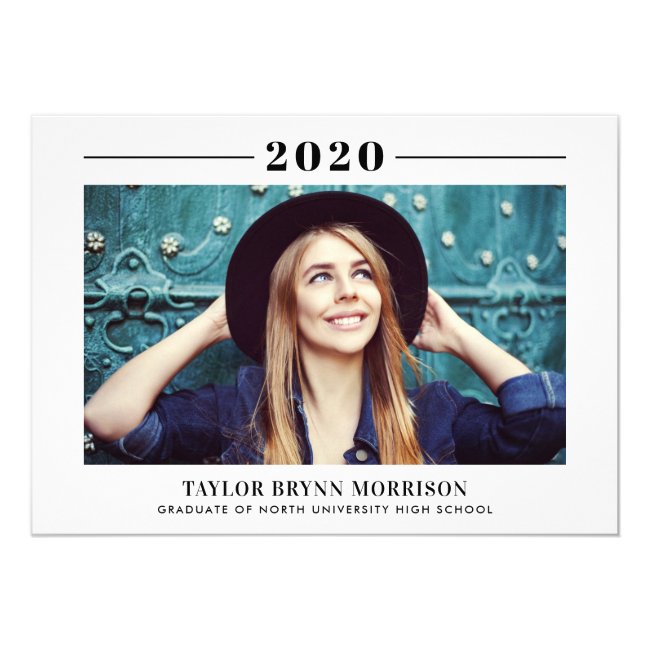 2020 Minimalist | Midnight Blue Photo Graduation Invitation
Two-sided card design features a simple graduation announcement on the front with an invitation to a graduation open house party on the back.. Personalize the front with a landscape format senior photo and customize the modern black text with the class year, graduate's name, and school they are graduating from. Include all of the important party details on the back. Minimalist style design features an accent stripe on the front and a diamond geometric pattern in white on the back. Note, the black text, black stripe, and dark navy / midnight blue background color can be customized to coordinate with your photo or party colors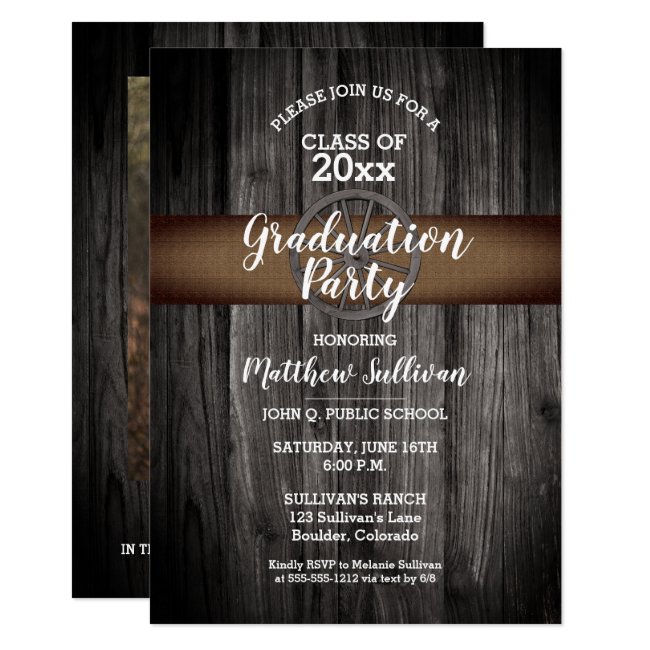 Rustic Wagon Wheel Class of 2020 Graduation Party Invitation
This rustic wood look western style design features the wood backgrounds on front and back with burlap look accents and your grad's photo on back. Simply complete the template with photo on back, your party details on front and future plans on back underneath the photo and you are all set. All text can be edited as desired and photo should be changed out for your own. Graphics are static and unchangeable. Please message designer if you need something changed with graphics. If you need this design in digital format, please also message designer. Designer has a similar variation available for digital download.
Red Stripes Horizontal Photo Graduation Invitation
This photo graduation party invitation offers a custom horizontal photo frame and is accented with red and white stripes. 2020 graduate appears in a sporty block style text.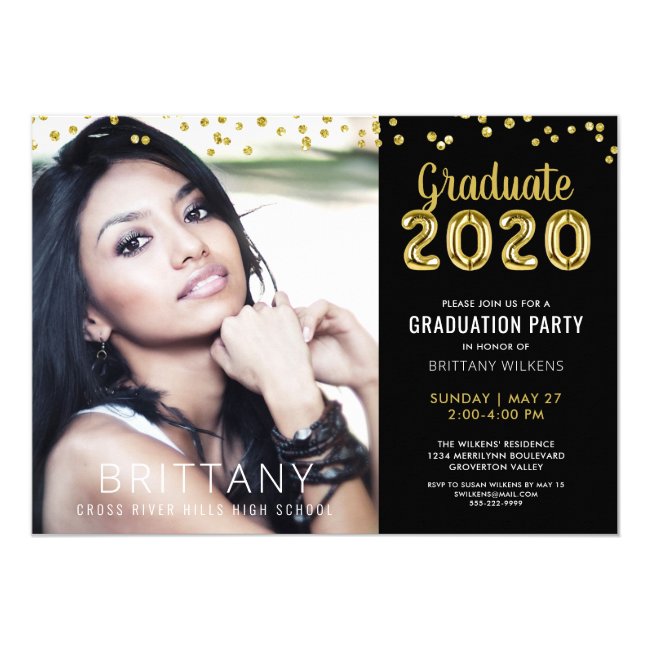 Modern Gold Balloon Number 2020 Black Graduation Invitation
Black and gold theme modern graduation invitation with gold confetti and the year 2020 in gold balloon numbers. PHOTO TIP: For fastest/best results, choose a photo with the subject in the middle and/or pre-crop it to a similar shape as shown BEFORE uploading and it will fill the photo space perfectly. COLOR CHANGE: You can change the background and text colors on the front and back to coordinate with your photos or party theme colors by clicking on the CUSTOMIZE tab. Contact the designer if you'd like this design modified or on another product.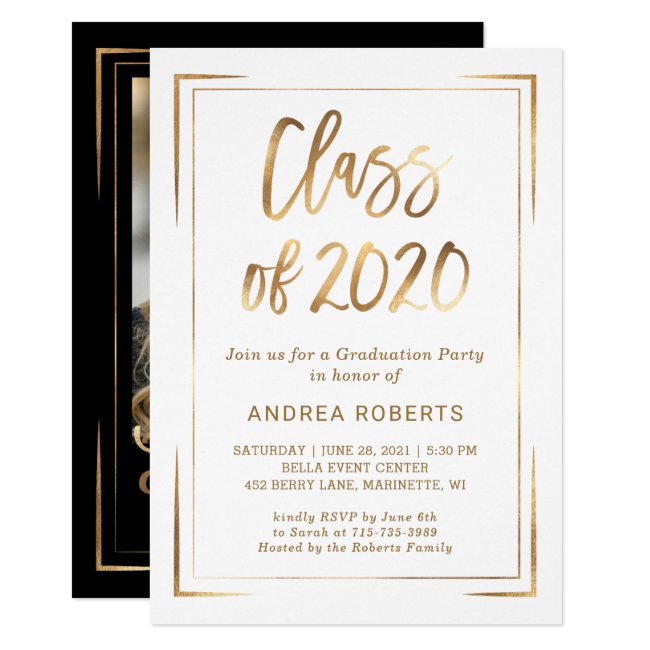 Black White Gold Class of 2020 Graduation Party Invitation
Class of 2020 Black White Gold Photo Graduation Announcement and Party Invitation Card.
Rose Gold Glitter Pink Graduation Party Invitation
Rose Gold Glitter Pink Graduation Party Invitation Elegant pink, rose gold ombre glitter color block Class of 2020 Script graduation Party Invitation.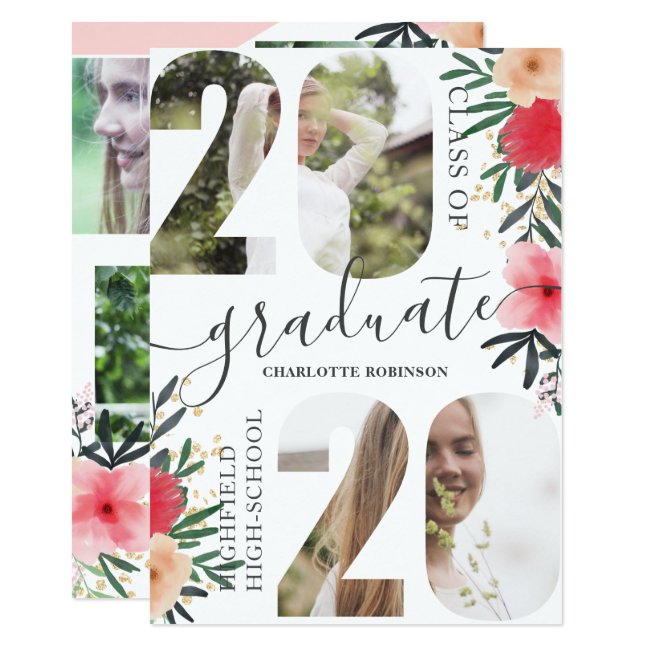 Pink floral glitter script 5 photo 2020 graduation invitation
Modern 2020 graduation cut out, for you to add your photo on editable white and gray and pink grad script with a stylish and cool graduate script with an editable color. Add 5 of your favorite photos. Class of 2020! With girly hand painted pink, red, peach and navy blue floral watercolor and gold glitter confetti.